Chickens didn't turn up and some 450 KFC outlets had to close in UK
Tuesday, February 20th 2018 - 09:20 UTC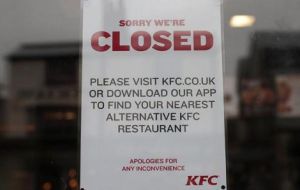 KFC has closed more than half of its 900 UK outlets after delivery problems meant they ran out of chicken. Last week, the fried chicken chain switched its delivery contract to DHL, which blamed "operational issues" for the supply disruption. It was unclear when the delivery problems would be rectified, a KFC spokesperson said.
Workers are being encouraged to take holiday but would not be forced to do so, he added.
"Our teams are working flat out all hours to get the rest back up and running as soon as possible - but it's too early to say how long it will take to clear the backlog."
KFC has set up a web page where "fans" can find their nearest outlet that is still open. It said that in the restaurants owned by the chain, staff on short-term contracts would be paid the average hours worked per day over the past 12 weeks, while those on salaries would be paid as normal.
However, 80% of KFC outlets are run on a franchise basis. "Franchisees will be seeking their own independent advice, but we're encouraging them to adopt this policy too," said the chain.
Until last Tuesday, KFC's chicken was delivered by South African-owned distribution group Bidvest, which describes itself as "the leading supplier of logistical and supply chain solutions to the UK hospitality and restaurant sector".
But after the change in the contract, many of the food giant's outlets began running out of chicken products. "The chicken crossed the road, just not to our restaurants," KFC said on Twitter.
"We've brought a new delivery partner onboard, but they've had a couple of teething problems - getting fresh chicken out to 900 restaurants across the country is pretty complex!" it added, apologizing to customers for the inconvenience.
"We won't compromise on quality, so no deliveries has meant some of our restaurants are closed, and others are operating a limited menu or shortened hours."
The distribution network uses software developed by the firm Quick Service Logistics (QSL).
DHL said: "Due to operational issues, a number of deliveries in recent days have been incomplete or delayed. We are working with our partners, KFC and QSL, to rectify the situation as a priority and apologize for any inconvenience."
The GMB union said it had tried to warn KFC that switching from Bidvest to DHL was a mistake. The change led to 255 job losses and the closure of a Bidvest depot, said Mick Rix, GMB national officer.