Falklands' second commercial air link invitation delivered to Uruguay
Tuesday, February 20th 2018 - 07:14 UTC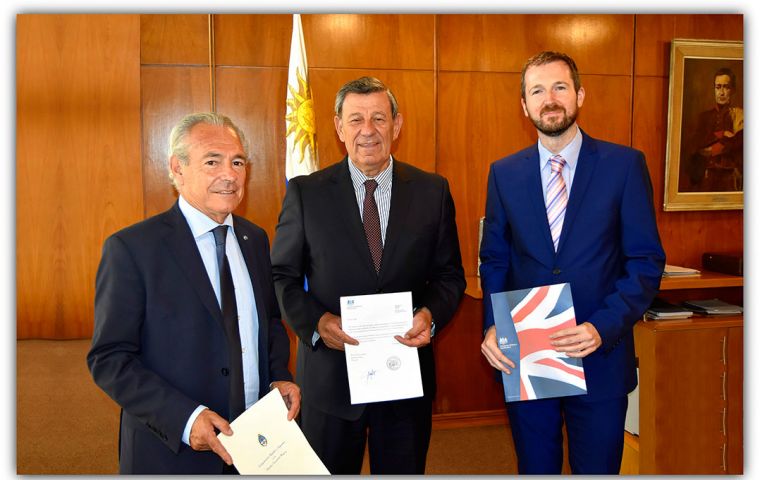 Representatives from Argentina and the United Kingdom formally delivered on Monday, to the Uruguayan foreign minister a letter jointly issued by the two governments requesting assistance in contacting local airlines and inviting them to communicate their interest in establishing a new weekly scheduled air service to and from the Falkland Islands.
At the special audience minister Rodolfo Nin Novoa received Argentine ambassador Mario Barletta and British Chargé d'affairs Rossa Commane.
According to the delivered document the Uruguayan eligible airlines should communicate their interest simultaneously to the UK and Argentine embassies in Montevideo, no later than 28 February 2018.
The announcement follows the principles set out in the 14 July 1999 Argentina/UK Joint Statement and Exchange of Letters, later supported through the signing of the 2016 Joint Communiqué, between Britain and Argentina where it was agreed to make further progress in establishing additional air links between the Falkland Islands and third party countries.
Pluna was Uruguay's flag carrier but in 2012, under the administration of president José Mujica the company was definitively closed down, and a cooperative with some of the staff was re-launched with government financial support, but it also was dissolved. Other private airline attempts in Uruguay have so far failed.