Unearthing Corbyn's past and contacts with Czech intelligence: "ridiculous smear", says Labour
Tuesday, February 20th 2018 - 09:55 UTC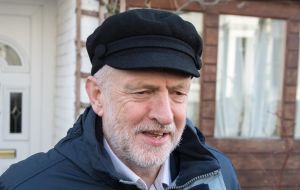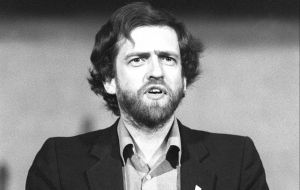 Labor party leader Jeremy Corbyn should be "open and transparent" about his alleged contacts with a Communist spy during the 1980s, Theresa May has suggested. Asked about claims a Czech intelligence officer met and tried to recruit Mr Corbyn during the Cold War, she said MPs must "account" for past actions.
The Labour Party has said claims he was an agent were a "ridiculous smear".
Czech officials say files show he was a "person of interest" but was never a secret collaborator or an informer. Files held by the Czech Security Service Archive, first reported by the Sun detail contacts Mr Corbyn is alleged to have had with a Czechoslovakian diplomat and agent in London in 1986 and 1987.
Jan Sarkocy told the newspaper he met Mr Corbyn on several occasions, including in the House of Commons, while he was working undercover in the London Embassy under the name of Jan Dymic.
At an event in Derby, the prime minister was asked whether she agreed with her defense secretary Gavin Williamson that Mr Corbyn's file - which reportedly gives insights into his character and views on foreign policy issues from the time - should now be released so people could make up their own mind about the claims.
"It is for individual members of Parliament to be accountable for their actions in the past," she replied. "Where there are allegations of this sort, MPs should be prepared to be open and transparent."
The director of the Czech Security Service Archive said that their files suggest Mr. Corbyn was seen as a possible "contact" but no more than that.
"Mr Corbyn was not a secret collaborator working for the Czechoslovak intelligence service," Svetlana Ptacnikova said. "The files we have on him are kept in a folder that starts with the identification number one.
Secret collaborators were allocated folders that start with the number four. If he had been successfully recruited as an informer, then his person of interest file would have been closed, and a new one would have been opened, and that would have started with the number four."
She added: "He stayed in that basic category - and in fact he's still described as that, as a person of interest, in the final report issued by the StB agent shortly before he [the agent] was expelled from the UK."
Labour has acknowledged Mr Corbyn met Czechoslovakian and other diplomats "for a cup of tea" but said Mr Sarkocy's accounts of his meetings with him had "no credibility whatsoever".
In a statement released when the Sun's initial report was published, Labour said "the claim that Jeremy Corbyn was an agent, asset or informer for any intelligence agency is entirely false and a ridiculous smear".
"Jeremy neither has or offered any privileged information to this or any other diplomat," it added.
Meanwhile, a spokesman for Mr Corbyn said the leader had instructed lawyers to contact Conservative MP Ben Bradley over a tweet he said was libelous. "Jeremy has instructed solicitors to contact Ben Bradley to delete his libelous tweet or face legal action," the spokesman said. The tweet, which claimed the Labour leader "sold British secrets to Communist spies", has now been deleted.