Union leader political rally in Buenos Aires to challenge Macri and his policies
Tuesday, February 20th 2018 - 09:23 UTC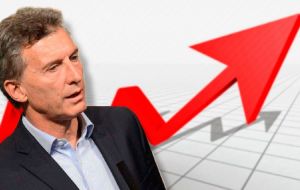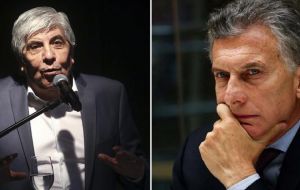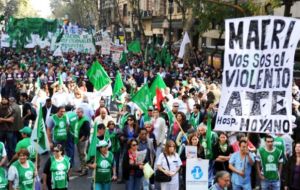 The Argentine powerful teamsters union will be holding their first political rally in downtown Buenos Aires this Wednesday in a clear defiance of President Mauricio Macri's policies to combat inflation, launch the economy and attract foreign direct investors. Hugo Moyano a member of the unions' umbrella organization has promised to convene some 300.000 workers and has anticipated that any incidents will be the responsibility of the government.
Moyano and his teamsters, supported by the bank employees and teachers unions are protesting against a 15% cap on the next round of salary negotiations, and demanding an additional end of the year bonus. The Macri administration is combating inflation which reached 24.8% last year, several points ahead of target and for this year has established a theoretical flexible objective of 15%, but as in previous years much will depend on how successful the Macri administration is in reducing the budget deficit and having to appeal to foreign loans to meet ends.
Macri and his administration have accused Moyano's rally as entirely political, with no other purpose but to disregard government policies to control inflation, and protect himself from serious claims of mismanagement (when not appropriation) of union funds, which have turned him into a very rich man, and are now the target of judicial investigations. As has happened with several other union leaders accused of money laundering, fraud and links with narcotics, and are under preventive jail.
The Argentine president victory in last year's midterm elections gave him a huge political boost, although not necessarily in Congress seats, while union leaders have been increasingly discredited following revelations of serious crimes and by the fact that Macri has intelligently divided them, and for the first time in years they face a serious challenge.
Moyano probably the most powerful of all union leaders and with loyal teamsters that can stop Argentina, has chosen to defy and battle Macri. The timing has been well chosen, before the beginning of the round or salary negotiations, and teachers have joined before schools reopen following summer holidays.
Macri has his owns problems, inflation remains stubborn, which has attracted financial investors (carry on trade) and still has to receive the promised direct investment, essential to get the economy rolling overall, not only agriculture and construction, and the creation of jobs. Much has been promised but the atmosphere is still tepid, and pruning the budget (eliminating subsidies from the Kirchner years) remains a liability despite all which has been advanced.
Moyano could finally twist the arm of Macri on the cap issue, but he can't overkill, likewise Macri prefers the courts to expose the union leader, and his assets.
The Macri administration, IMF, World Bank and the Inter American Development bank agree that Argentina is on course to grow plus 3% this and the following years. Whether the corrupt unions can derail the effort to keep their privileges has yet to be seen, but some of the "fat boys", as they are identified by the media, are nervous. In effect, one of them forecasted that Macri would not end his mandate, and Moyano himself who argued why "a worker can't have things", said that if he is finally sent to prison, he would like his jail to be next to that of Macri's father, in reference to a deal in the nineties when the Argentine post office was privatized.
Moyano has also defined some of his peers who will not accompany or support him at the rally, --speaking in delicate Thatcher terms as "wets"--, although the teamster used more coarse direct language.
But despite the apparent animosity the platform says the objective of the march is "an Argentina of rights and equality, defending jobs and Argentine work to ensure workers purchasing power that guarantees the domestic market and production, plus the creation of jobs. Likewise they call on the government to listen to what workers have to say, and to understand that when challenging poverty, inequality and the loss of families' quality of life, all Argentines must stand together.
Likewise as to security during the rally, 2.000 clearly identified members of the union will have the responsibility. Scuffles will be dealt by them, but if things get out of hand and property is threatened or damaged then police, supported by riot forces (armed with rubber bullets), not visible to the marchers, will be ready to intervene. Drone surveillance is also part of the scheme.