Malvinas fallen relatives will be flying to Falklands at the end of March, says Argentine media
Wednesday, February 21st 2018 - 07:04 UTC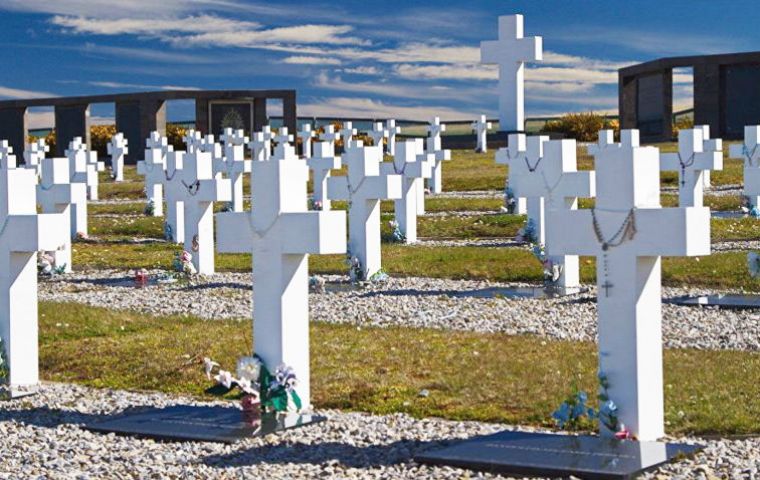 The next of kin of 103 Argentine combatants fallen during the 1982 Falklands conflict will be travelling to the Islands next 26 March with the purpose of honoring the 88 unknown conscripts, buried at the Darwin cemetery, that were finally identified in a joint effort from the Argentine and British governments, the International Red Cross and consent from Falklands elected authorities.
According to Argentine media, the information was confirmed following a meeting, this Tuesday, of officials at the British embassy in Buenos Aires. The relatives of the 103 combatants were involved in the DNA remains identification process, and will be accompanied by the Argentine Secretary of Human Rights Claudio Abruj next month.
Psychologists, and religious representatives will also include the delegation to perform services at the Argentine cemetery in Darwin, which for 35 years has had 122 unmarked graves, with the only reference in a black granite plaque, "Argentine soldier, only known unto God".
Now following the latest humanitarian identification process, --agreed by Argentina, UK, Red Cross and the Falklands--, with the participation of international forensic experts, 88 graves have a name and the delegation will replace the neutral black granite with their full names.
The logistics of the trip, and the ceremony to be held at the Darwin cemetery, is being coordinated by the Human Rights Secretary, the Malvinas fallen next of kin commission, the Argentine foreign ministry and the British embassy.
The forensic identification process took place during June/August last year, and following a DNA remains checking process in Argentina, UK and Spain, the Argentine government initiated a round of interviews with next of kin to inform them of the results.