Argentine union leader Moyano remembers Macri where the real opposition stands
Thursday, February 22nd 2018 - 09:41 UTC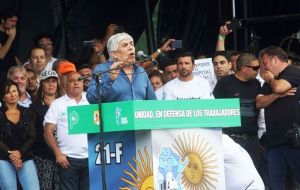 Argentina's teamsters powerful boss, Hugo Moyano supported by members from banks, judicial and teachers unions, plus social, picketers and left wing groupings, together with Kirchner followers marched on downtown Buenos Aires Wednesday evening for a huge rally to protest President Mauricio Macri's economic policies and attempts to reform labor legislation.
Organizers estimated that the rally, on a beautiful sunny day, attracted some 300.000 peaceful self regulated protestors (mostly arrived in hundreds of buses and trucks contracted by teamsters), while the police estimated the number somewhere between 90.000/100.000. Anyhow an impressive number and force display from Mr. Moyano, who was the main speaker at the rally, and again showed he is a formidable opponent of president Macri.
President Macri despite an overwhelming victory in last October's midterm elections, still does not have sufficient votes in Congress to approve austerity legislation, and must negotiate with a splintered but majority Peronist movement, suffering the hangover (and shame) of a decade of Kirchnerism which left Argentina on the cliff of another major default.
Macri so far has been relatively successful with his legislative agenda, but mainly because his overall approach to the economic situation has been a soft, gradual readjustment. This mostly based on the promise of taming inflation, which effectively has been brought down from over 45% to 27% last year, but it's not enough, and expectations remain high, patience is running out, and the 15% cap for the coming round of salary negotiations is not acceptable for organized labor.
Mr. Moyano who at the beginning of the Kirchner couple presidencies, 2003, was prudent and helpful, and ended up as declared enemies with Cristina Fernandez de Kirchner following years of souring relations, was pleased, and respectful, when Macri was inaugurated in 2015, since they enjoyed a civilized relation when the president was mayor of the City of Buenos Aires. However as Macri and his team move to the second phase of their adjustment of the economy, with the threat of changes to labor legislation, that are vital to the power of Argentine unions, Moyano has reason to be concerned.
The protest has a tempting rallying flag, the 15% cap for salaries, the recent approval of a controversial pensions' reform and some of the effects of the labor legislation under discussion referred to redundancy and short term contracting. Thus the success of the rally, but Mr. Moyano's power is resented by other union leaders and not all organized labor supported the march. Besides the courts are after the transparency of the millions of dollars that the unions' chiefs manage, (membership is mandatory in Argentina), and which is some cases have ended in jail for money laundering, fraud, enrichment.
Macri on his side must bring inflation down, boost industry, create more jobs, convince foreigners of direct investments, not only carry on trade, given Argentina's tempting bonds' interests to pay for huge deficits.
Despite all his international efforts, foreign investors who waited until October 2017 to ensure Macri had the sufficient political support in Congress, are now demanding labor and tax legislation reforms, plus a faster rate in moving towards a balanced budget, which means cutting expenditures, particularly ending the Kirchnerite subsidies system for public utilities.
Summing up, Moyano as he admitted during his speech to the rally, "I'm not scared of going to jail. My life is dedicated to the workers", but his was a formidable display of organization and power. Macri on the other hand can manage majorities in Congress but the main opposition to certain reforms won't be coming from Buenos Aires Capitol Hill.