Warren Buffet receives a profit boost of US$ 29bn from Trump's tax reforms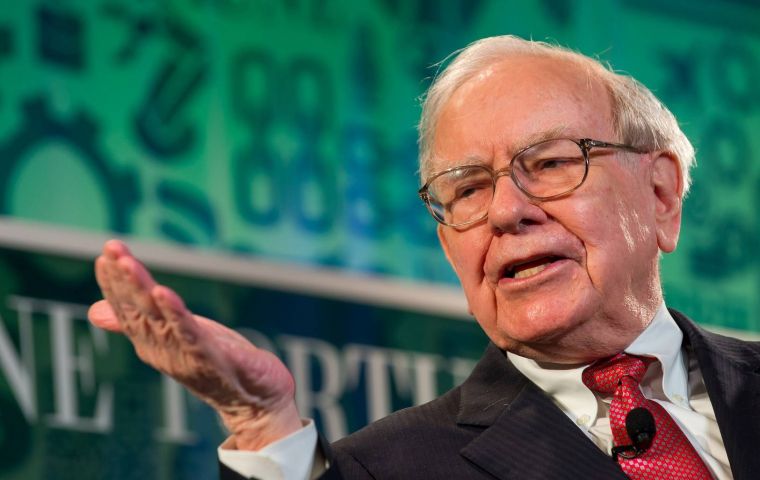 US billionaire Warren Buffet says his conglomerate has received a profit boost of US$ 29 billion as a result of President Donald Trump's tax reforms, he says. Berkshire Hathaway reported a record quarterly and annual profit on Saturday.
The Republican law reform, approved in December, cut the corporate tax rate to 21% from 35%. Mr Buffett, one of the richest men in the world, opposed the plan.
In his letter to investors, Mr Buffett said the tax cut accounted for nearly half of the firm's gain in net worth during 2017.
"A large portion of our gain did not come from anything we accomplished at Berkshire," he wrote. "Only US$ 36 billion came from Berkshire's operations. The remaining US$ 29 billion was delivered to us in December when Congress rewrote the US Tax Code."
Non-partisan analysts had said the greatest beneficiaries of the tax package would be multinational corporations. Last month Barclays, a British bank, predicted that Berkshire Hathaway would be a major beneficiary. It said that after an initial windfall, its earnings could continue to rise by 12% on an ongoing basis.
Passing the bill through Congress was a major victory for President Trump. He called it "the largest tax cut in the history of our country" and a gift to the nation. The reforms give the vast majority of taxpayers lower tax bills in the immediate future. However those cuts expire in 2025.
Mr Buffett, who believes in higher taxes for the rich, has said he would have preferred a different tax bill. Berkshire Hathaway has holdings in freight rail, major insurance companies, real estate, newspapers and utilities.
Its investments include Geico, the Kraft Heinz Co, Fruit of the Loom and Acme Brick Company, as well as Northern Powergrid subsidiaries, which serve about 3.9 million customers in the UK. The firm and its subsidiaries employ more than 367,000 people globally. Mr Buffett has led it for more than four decades, making his vast fortune.
According to Fortune magazine's ranking of world billionaires, he is worth US$ 87bn, behind only Bill Gates and Jeff Bezos, the founders of Microsoft and Amazon respectively.