Argentina's foreign policy according to Jorge Faurie: Intelligent Insertion
Tuesday, February 27th 2018 - 06:32 UTC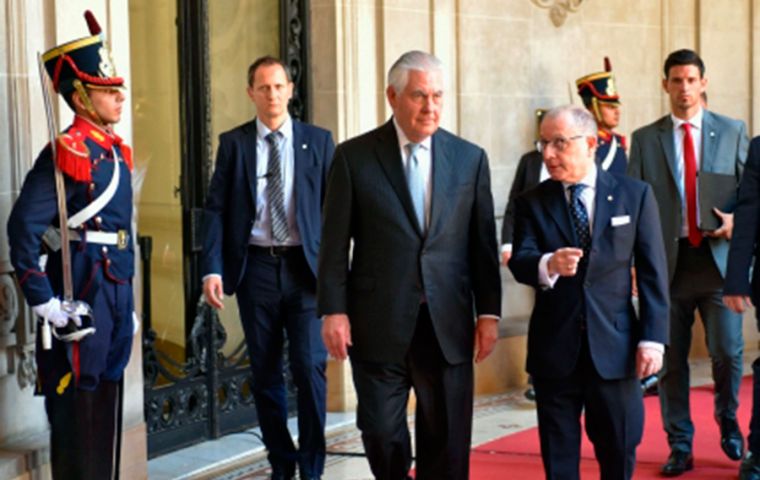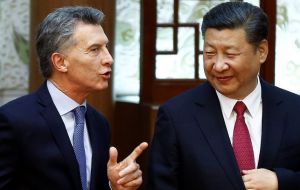 Argentina foreign minister Jorge Faurie has written a long column, (full tabloid page) in Buenos Aires daily Clarin, under the heading of "Intelligent Insertion" describing motives and objectives of the country's foreign policy under president Mauricio Macri, driven by the principle of an intelligent insertion in the international scenario. The final commitment of Macri's administration is reducing poverty and improving Argentines' life quality.
For the Falklands, after the long march of Kirchnerism, the good news is that there is not a single mention direct or indirect to the Malvinas dispute, but neither to the commitments announced in the September 2016 Argentine-UK Joint Communiqué, or the strong political rapprochement and cooperation between London and Buenos Aires. But this is an issue to be addressed by the Foreign Office.
Faurie explains that the intelligent insertion means foreign policy is focused in Argentina's interests, with no ideological conditioning, but committed to democracy, human rights and multilateralism, multiplying Argentina's international presence and capitalizing each opportunity that surfaces for trade and exporters.
The purpose is not to strengthen links with Latin America, or with the European Union, or with United States, with China or with Russia, but with all of them and each one, which has meant that in two years Argentina now has trade negotiations with 50% of the world's GDP.
Likewise one of the pillars of intelligent insertion means re-launching Mercosur with emphasis not only in the European Union trade talks, but also with Canada, Australia, New Zealand, South Korea, EFTA and ASEAN. While regionally Argentina and Mercosur are targeting dialogue with the Alliance of the Pacific (Chile, Peru, Colombia and Mexico) to achieve an ocean to ocean integration. For this, block-to-block competition has been replaced by a road map to facilitate trade, customs cooperation and finally physical integration.
Regarding the US, Argentina has been re-integrated to the preference tariffs system and only recently Secretary of State Rex Tillerson visited Argentina helping to insert the bilateral relation in a positive course both in trade and political terms.
Similarly with Russia, Argentine fish processing plants have been certified to export and fruit phytosanitary terms for the Russian market has been established. The same can be said of the Gulf countries plus Israel and Egypt in the Middle East.
China and the Asian emerging economies are of most interest for Argentina underlines Faurie. Macri and Xi Jinping have a good personal relation and Beijing has opened its market for many Argentine produce. Something similar can be said about links with Singapore, Indonesia and Japan, which has a strategic relation with Buenos Aires, and recently a business mission from Tokyo visited Argentina looking for investment opportunities in the framework of a cooperation agreement. Besides Macri has been to Tokyo and Prime minister Shinzo Abe to Buenos Aires.
Finally there is a mention to the G20 summit to be hosted by Buenos Aires at the end of 2018, with the attendance of the world leaders to coordinate policies and address the world's main challenges, and Argentina (representing Latin America) will be playing a full participation and constructive role in the international scenario.
The closing paragraph refers to the multiple and diverse links established by Argentina in the last two years with the world, "with tangible results that do not subordinate the national interest to ideological prejudice. The opposite would imply denying potential benefits for the Argentine people, because there is nothing more intelligent than a foreign policy which has the horizon of benefitting all Argentines, with not one left behind"