Uruguayan fraternity: nepotism, nepotism and no job to spare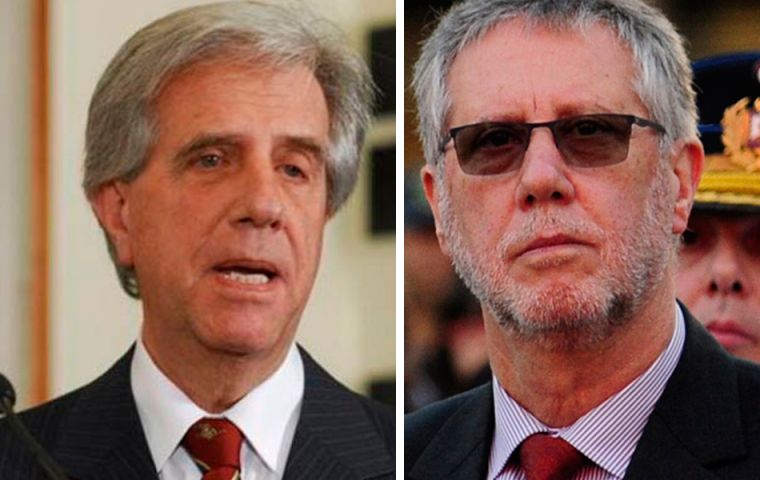 It has been a long standing consensus-secret in the Uruguayan political system that when you are elected or have been nominated to a political post, you must not forget the family or friends particularly if they are in distress. This means in practical terms that the generous Uruguayan state will incorporate you to the burgeoning bureaucracy be it at national or regional level.
It is not always the case but it is an extended practice and to a certain point can be justified although it is contrary to law and ethics: in effect the extremely competitive Uruguayan political system many times demands that elected officials have someone to look after its back, and why not name relatives, close relatives.
That is the case of president Tabare Vazquez who named his brother, a licensed nurse, as deputy of the Home Office, which in the Uruguayan system deals with security, and law and order, combating the growing drug cartels, and also has under command some 45.000 armed men and women plus a sophisticated surveillance system.
However in this case although a certified nurse, and ex guerrilla kidnapper, Vazquez' brother must effectively be aware of what the minister is doing, since he is totally loyal to ex president Jose Mujica, and belongs to his inner circle. The fragile catch all coalition that rules Uruguay since 2005, has two main blocks, one more orthodox led by Vázquez, Finance minister Danilo Astori and foreign minister Rodolfo Nin Novoa, and the other under control of Mujica and his ex guerrillas, the powerful communist party and small radical groups, which have managed to condition Uruguay's foreign policy, clearly aligned behind Maduro's Venezuela, and have been contained economically by massive government employment and contracts to non government companies closely linked politically.
But leaving aside heavy politics, it has emerged that contracting direct relatives, friends, lovers is widely extended to the whole of Uruguay' administration. It all emerged strongly when several opposition regional governments had to admit publicly these sins, forced by political squabbling and leaks to the media, which makes the whole issue alarming since most of these administrations receive money from the central Treasury.
Not to say the fury of a majority of public opinion, particularly when farmers are protesting in highways and employment is increasingly scarce.
However despite the cautious Uruguayan media approach, a flood of similar cases at the main administration in Montevideo emerged. In effect one of the members of the National Health Scheme board, had contracted his son's 18-year old girlfriend as a secretary in his office with a salary approximately equivalent to US$ 2.000 when the average income in Montevideo, the highest in Uruguay is below US$ 1.000.
President Vazquez took advantage of the situation and fired the three board members. To be entirely straight forward the NHS as well as the Public Health Ministry belong to the Communist party in the cabinet distribution, and Vazquez was quite fed up particularly with the president, a cheeky lady who was protecting many presumably corruption cases and insisted in meeting President Vazquez before making any decision about her future. Even the Communist party let her go. Vazquez promised a clean start, but named another communist doctor, former head of a regional government who has been accused of employing many members of his family when he was a mayor.
This was followed by the revelation that three members of the Administration's Tribunal Dispute board had employed their daughters as advisors. The excuse was that they had a university education and were experts in administrative law. Another case erupted at the National Pensions Bank, when two of its board members admitted having employed their partners in their offices. It was then remembered that Finance minister Astori had named his partner as an advisor to the ministry; likewise the Social Development minister responsible for handouts to those in extreme poverty had given a job to the boy friend of her daughter and to her future sister in law.
Foreign minister Nin Nova was also generous with Treasury funds, he incorporated as an advisor allegedly in foreign policy, the daughter of Vazquez' head of the presidential Media Office. The young professional is a vet.
And the list can go on and on, but president Vazquez had to admit a brother in law of his, the father of the wife of his eldest son belongs to the special corps that looks after the president and occasionally is his chauffer.
Vazquez promised he will consult with the Transparency and Public Ethics Office, regarding his brother in law. But it's a toothless office which besides lacking funds for any investigation; it simply safeguards closed envelopes of the mandatory sworn statements from top officials that can be only opened on demand from the judiciary or serious suspicions of wrongdoing.