All crew members of Taiwanese jigger which caught fire are rescued in the South Atlantic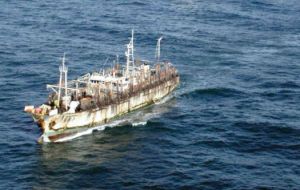 The government of the Falkland Islands has reported that all crew members of a Taiwanese jigger which caught fire in the South Atlantic have been rescued and should be arriving in Montevideo in the coming days.
The FIG release indicates that on the morning of 24 February, the Taiwanese jigger Hung Shun 1 caught fire approximately 120 nautical miles north of Stanley. All 58 crew were swiftly and safely evacuated to another fishing vessel Lung Soon Fa 1, and are awaiting the arrival of a reefer vessel which is due to transport them to Uruguay.
An associated fishing vessel is monitoring the jigger and the operators are making arrangements – subject to weather conditions – to tow the vessel this afternoon (27 February) and remove it from Falkland Island zones, with assistance from the Protegat.
The Falklands' Fishing Operations team are working closely with both JK Marine, the local agents, as well as Yuh Fong Marine Products Co. Ltd who own and operate the jigger. The cause of the fire is unknown although there is some speculation that the fire was caused due to an electrical fault and that, despite initial fire-fighting efforts, the crew were forced to abandon the vessel in order to ensure their safety.