Theresa May meets Donald Tusk before her major post-Brexit speech on Friday
Thursday, March 1st 2018 - 09:58 UTC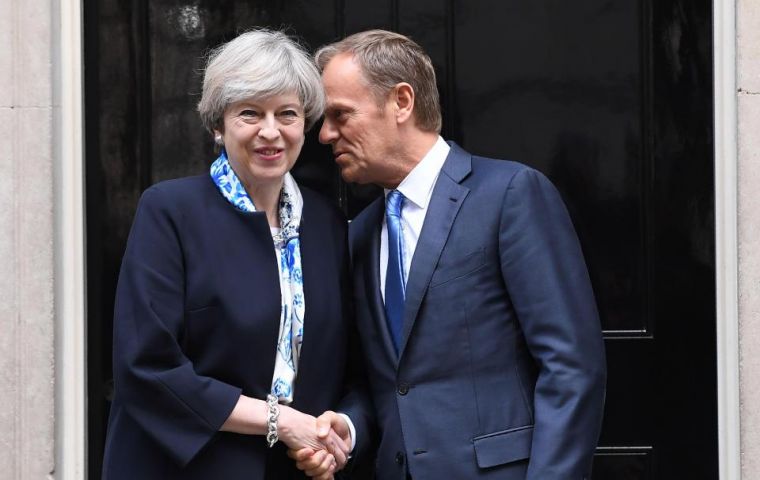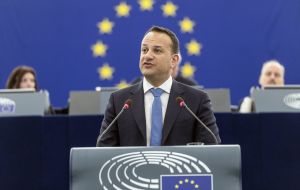 British Prime Minister Theresa May will meet top EU official Donald Tusk this Thursday, 24 hours before a major speech on British relations with the bloc after Brexit. Her talks with the European Council president come amid tensions over the EU's draft withdrawal treaty.
Mrs. May has said the EU's proposals on Northern Ireland threaten the UK's constitutional integrity. The EU says the UK needs to come up a workable alternative to their proposals - which it describes as a "backstop".
Mrs May, due to chair a meeting of the cabinet before her talks with Mr. Tusk, has already pledged not to accept the draft treaty as it stands.
The treaty proposes a "common regulatory area" after Brexit on the island of Ireland - in effect keeping Northern Ireland in a customs union - if no other solution is found.
Both the EU and the Irish government say it is up to the UK to come up with concrete alternatives to what they describe as a "backstop" option.
Taoiseach Leo Varadkar told the Irish parliament on Wednesday: "If people do not like what they see today, it is incumbent on them to come up, with alternative solutions."
Mrs May has said "no UK prime minister" could ever agree to a proposal that would create a customs and regulatory border in the Irish Sea and that she would make that "crystal clear" to EU officials.
Speaking on the BBC's Newsnight program, veteran Euroskeptic Sir Bill Cash said there were "technical ways" of managing the Irish border and accused the EU of trying to create a "constitutional crisis" for the UK.
Cabinet ministers have suggested Friday's speech will give the EU the clarity that it has been seeking about what kind of trade relationship the UK wants after its departure on 29 March 2019.
In an apparent concession to the EU ahead of the speech, the government said EU nationals coming to the UK during a transition period after Brexit, expected to last two years, would get indefinite leave to remain.
Mrs May has said her long-term goal is a "bespoke economic partnership", underpinned by a comprehensive free trade agreement guaranteeing tariff-free access to EU markets for British goods and services.