Prosecution wants Temer included in Odebrecht payments investigation
Saturday, March 3rd 2018 - 10:39 UTC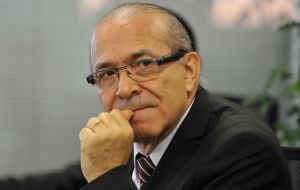 Prosecutor general, Raquel Dodge, requested Brazilian Supreme Court justice, Edson Fachin, to include president Michel Temer in the list of those under investigation in an inquiry launched last year to determine Odebrecht's alleged payments to the Brazilian Democratic Movement (MDB) party in 2014.
The case refers to a dinner at Jaburu Palace, in May 2014, at which an illegal payment of 10 million Reais (US$3,08m) was allegedly agreed.
Eliseu Padilha (chief of staff) and Moreira Franco (secretary-general of the presidency), both members of MDB, are currently targeted by the inquiry.
When the inquiry was initiated, then prosecutor general, Rodrigo Janot, understood that the Brazilian Constitution forbade investigating the president for alleged crimes prior to taking office.
Dodge disagrees with such understanding in her petition. According to the prosecutor, the president "cannot be held accountable, under a criminal action, during his term in office", but he can be investigated.
She emphasized that an accurate investigation, as close as possible to facts, is required in order to prevent witnesses from forgetting details and records and footage from being discarded.
"The facts reported by informers and the elements of corroboration they brought require immediate investigation."
The administration reported that the president will not comment on Dodge's request and on suspicions raised by informers.