Theresa May and Donald Tusk clash over Brexit: "real political difficulties"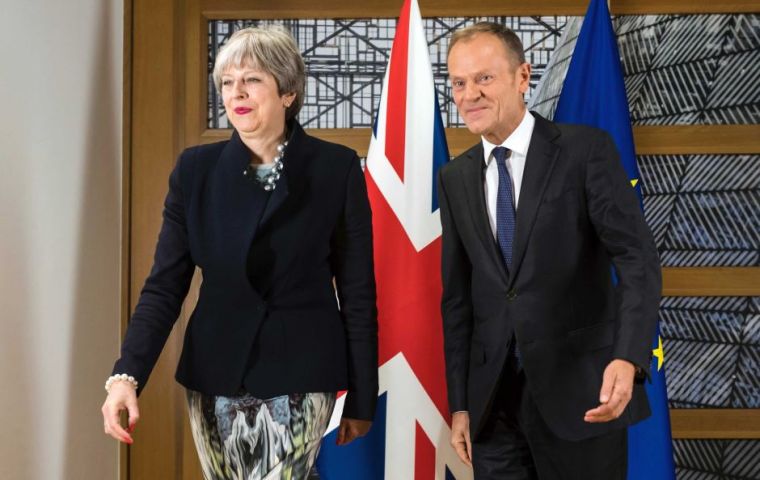 "Real political difficulties" lie ahead for Brexit, EU summit chair Donald Tusk said after Prime Minister Theresa May gave him a preview of the vision of future trade ties she will unveil on Friday. Over lunch on Thursday at her Downing Street office, May told Tusk a draft Brexit treaty published by the European Union on Wednesday was "unacceptable" in its proposal of keeping Northern Ireland effectively in an EU customs union, potentially isolating the province economically from the British mainland.
Tusk offered a robust defense of the draft, which the EU says is a "backstop" for avoiding a "hard border" that might disrupt peace in Ireland. Before their meeting, he said he would be asking May if she had a better idea to achieve that.
No details emerged of exactly what May will propose in a speech on Friday for an "ambitious economic partnership" after Brexit. Some ministers have suggested that it can achieve "frictionless trade" between the whole United Kingdom and the EU and avoid the need for a special deal in Ireland.
May's spokesman said her ministers had agreed with her that her speech would be "a real step forward in the negotiations". However, Tusk has dismissed as "pure illusion" some of the ideas that many expect to form part of her proposal to maintain close regulatory alignment with the EU in some sectors.
On Thursday he bluntly dismissed the idea that May could avoid hampering trade while pursuing her plan to take Britain out of both the EU customs union and the single market.
"Friction is an inevitable side effect of Brexit. By nature," he told a business conference in Brussels. Over lunch in London, an EU official said, Tusk focused on plans for future ties, talks on which should finally get under way next month after an interim deal on divorce issues was struck in December.
British Brexit supporters accuse the EU of being inflexible and seeking to punish Britain for leaving, while EU leaders say Britain is trying to cherry-pick access to their markets while absenting itself from following rules it does not like.
Rhetoric on both sides has turned sharper following the interim accord in December, with EU officials urging May to give them a clear idea of what her deeply divided government wants on trade and for Northern Ireland with Brexit just 13 months away.
The EU official called Tusk's lunch with May "an open and honest debate in a good atmosphere about the real political difficulties ahead of us". After May's speech, Tusk will present an EU negotiating position on post-Brexit relations next week which EU leaders should endorse at a summit on March 22-23.
Also addressing the Business Europe forum in Brussels on Thursday, the EU's chief Brexit negotiator Michel Barnier urged company bosses to prepare for Britain's departure and issued a new warning that a status-quo, two-year transition period was not yet agreed and might not be guaranteed for another year.
The "only certainty", Barnier said, was that Britain would be out of the EU next March, and so businesses must prepare: "Of course, the transition period currently under negotiation would give you more time to adapt," he added.
"However, certainty about the transition will only come at the end of the process, with the ratification of the withdrawal agreement by both sides - probably early next year."
Tony Blair, the former Labour prime minister who is among the more prominent campaigners trying to halt Brexit, was in Brussels on Thursday, aiming to persuade EU policymakers to be ready to welcome Britain to remain if it changes its mind - and be ready to show a will to reform, especially to curb the easy migration across the EU that worried many Britons.
Tusk and other EU leaders have repeatedly said Britain would be welcome to stay, although some also make clear they are not willing to undertake major reforms in order to do that.