Sterile by obligation: "I cannot donate sperm because I am Venezuelan"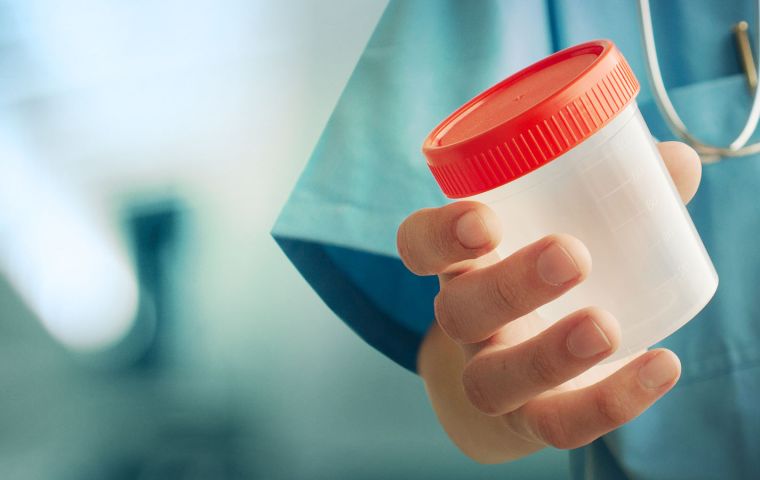 I was stunned when the occupational assistant, with a form in hand and looking to me over her glasses, told me "is that if you are Venezuelan you cannot participate in this program". We were just her, a newly purchased stretcher and a plate of donuts.
The cold water bucket happened this morning at a clinic in central London; those with automatic doors and reception of talking buttons. Smell of plastic. A creation. Behind the secretaries, a giant banner with the portrait of a group of young people, all laughing among themselves, and the slogan "Everybody can become a sperm donor". It was the same image that had suddenly jumped in my face the previous night, through a pop-up window, while browsing the Internet and reading "Genetic and Physical Consequences of the Holocaust."
Without paying attention, I closed the advertising and continued reading:
"According to investigations by the BBC, after declaring the end of World War II, a large part of the Jewish survivors were deprived of their reproductive capacity due to the fact that the terrible food conditions during the years of concentration led to serious clinical complications, which they reduced the expectation of their future offspring. "
The cover of the article was a black and white photo of a series of rickety bodies that I imagine were isolated in any part of Poland, where I will go in a couple of weeks. The portraits were Jews of a horrendous appearance, with their cheeks sunk and their eyes lost. Poles trapped in a reality very alien to their personal aspirations.
Nevertheless, the publicity suddenly reappeared, my eyes shining from the laptop screen like an impertinent virus. Donate your sperm and contribute to the nation. I studied that picture of youth and laughs, that of the reception of the clinic and I hesitated for a second. I thought: "Why not?" Take a risk.
So I stopped, I asked for a medical appointment and, in a matter of hours, I was already being interrogated by a bunch of charcoal pencils and squared sheets. Explain your family tree. Well, my parents, from Caracas; I, 23 years in Guarenas –near Caracas– and two in London. None is hypertensive, no one with cancer... What else do they want to know?
The theme was to pass a series of medical exams and then enroll in one of the many sperm banks in England. However, despite the modernist air of English health and its "inclusive culture", the woman was blunt: "We do not accept anyone who comes from Venezuela." And, missing almost nothing to sign the last document, the woman remembered a "piccolo" detail:
-You have an Italian passport but now I'm seeing that you were not born in Italy but in a city called Ca... ca, is it Caracas?
-Yes, that's right.
-In what South American country is it? Brazil? Colombia?
-Venezuela.
-Oh, "Venezuela" -she tightens her chin- "I see ..."
- Is there something wrong with that?
-"You see," -and she sits back in his seat- "By order of the Ministry of Health of the United Kingdom, certain nationalities are forbidden to donate sperm. Among them we have a small part of Africa, Haiti and, recently, Venezuela. We consider it now within the red line of international epidemics. We have information that national hygiene, nutrition and sanitation are in terrible condition. That could affect the health of fetuses, you know?
Absolute silence. So eternal, that my interlocutor got up from the chair and tried to comfort me: "Thanks for coming, anyway. Hey, do not you like donuts? This chocolate is spectacular." I grabbed one and left.
I cannot donate sperm because I am Venezuelan.
It's the only thing I've been reflecting on ever since. When I got home, I turned on the computer again to do some work and, with my hands impaled, I discovered that I still had that article about Nazi massacres. But it is no longer the bony faces of Jews that I see. Now it's my neighbor from Guarenas, the lady who sells empanadas at the University, the guy who sells tickets at Plaza Sucre in Caracas and many others.
Yes, it is a newly unmasked truth: We are people imprisoned in a concentration camp that at the gates bears a sign that says the word "chavismo". The damn reality of a "socialism" that has stained us as a dirty town forever.
I wiped my fingers with a napkin and remembered the smiling guys from the advertising. "Hopefully we can shit with laughter like this one day", I told myself. Meanwhile, even the taste of chocolate does not take away from my mouth the unpleasant sensation of being sterile by obligation.
Gianni Mastrangioli Salazar is a historian and author of this article. He is currently working on a journalistic chronicle abroad.
You can follow him on Twitter and Instagram.