A month after leaving the Falklands, "Tarini" has reached Cape Town
Tuesday, March 6th 2018 - 06:49 UTC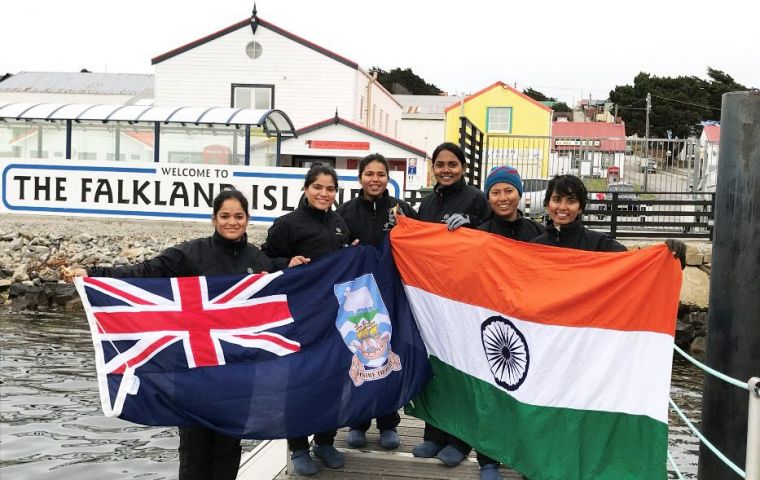 Indian Naval Sailing Vessel (INSV) 'Tarini' has reached Cape Town in South Africa. This has marked the successful circumnavigation which started in September last year. The all-women crew has created history with the voyage as it is the first-ever Indian circumnavigation by an all-women crew.
INSV Tarini had left Goa in September 2017 to circumnavigate the globe with an all-women crew onboard. Lt. Commander Vartika Joshi is leading the all-women crew on the voyage along with other members including Lt. Commanders Pratibha Jamwal and P. Swathi, Lieutenants S. Vijaya Devi, Payal Gupta, and B Aishwarya.
The voyage, titled "Navika Sagar Parikrama", had three stopovers before finally reaching Cape Town in South Africa, which marks the successful completion of the voyage.
After setting out in the sea in September last year, Tarini completed the voyage with stopovers at Fremantle in Australia, Lyttelton in New Zealand, Port Stanley in the Falkland Islands and Cape Town in South Africa.
INSV reached Fremantle on October 23 followed by Lyttelton on November 29. They reached Port Stanley on January 21 and left on February 04 towards Cape Town in the last leg of the voyage. The 55-foot vessel was inducted into the Indian Navy in early 2017.