Washington state phases out Atlantic salmon farming following the collapse of a marine net-pen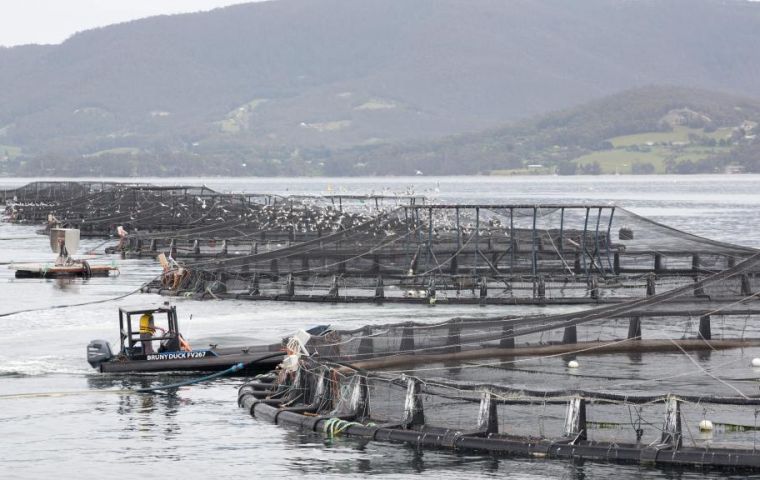 After a lengthy debate, Washington State Legislature has passed a bill phasing out Atlantic salmon net-pen farming ban in the state waters. The approved bill would end state leases and permits for operations that grow nonnative finfish in state waters when current leases expire in 2022.
Atlantic salmon sea net-pen farming has been targeted in the controversy after up to 263,000 invasive Atlantic salmon escaped into Puget Sound last year when a marine net pen belonging to Cooke Aquaculture Pacific collapsed.
State officials blamed the firm's negligence for failing to maintain its net pens, saying the escape of the salmon put the state's ecosystem at risk and fined the company US$ 332,000.
In a statement issued by Cooke Aquaculture, the firm's public relations vice-president Joel Richardson said the company was "deeply disappointed" with the bill's passage, the potential impact on the industry and "more than 600 rural workers and their families that rely upon salmon farming for their livelihoods."
In addition, he said the company will evaluate its operations and investments in the state and ensure that whatever decision they make puts families and workers first.
Richardson told lawmakers last month that Cooke would be able to seek damages under a provision of the North American Free Trade Agreement if the measure passed. He explained the bill would strip the Canada-based company of its US$ 76 million investment in the state in an unfair way. He did not address that issue in his statement.
"We know that we have work to do with our state, tribal and community partners to rebuild public confidence and demonstrate the value that our industry brings to Washington and the world. We remain committed to supporting Washington's community, economy and marine ecology. And we will do so with a deep respect for the value and importance of native salmon to Washingtonians in general, and to the heritage, identity and culture of the Northwest Treaty Tribes in particular," Richardson pointed out.
Atlantic salmon farming has been in the state since the 1980s but remains controversial in the Northwest, famed for its native Pacific salmon runs and where tens of millions of dollars are spent each year to bring back declining populations of wild Pacific salmon stock (FIS).