"Weak flesh" reignites in Brazil's major food processor and world's largest poultry exporter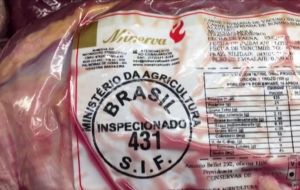 Brazilian police arrested the former chief executive of major food processor BRF SA on charges that he and other executives knew the company, the world's largest poultry exporter, engaged in fraud to evade food safety checks. Shares in BRF plunged 19% on the Sao Paulo stock exchange as the arrest compounded concerns about BRF's leadership following a 1.1 billion Reais loss last year.
The loss, the company's worst ever, was partly due to fallout from a police investigation known as "Operation Weak Flesh" into alleged bribery of food-sanitation inspectors at BRF and other food processors across the country.
Major shareholders have been pushing to replace the entire BRF board of directors and Chairman Abilio Diniz, a billionaire retail magnate, in the wake of last year's scandal.
Pedro Faria, BRF's chief executive between 2015 and 2017, was taken into custody in Curitiba, Paraná, police said. They said Hélio dos Santos Júnior, who resigned last week as BRF's vice president of global operations, was also taken into custody.
As part of the "Weak Flesh" probe last year, police accused scores of people, mostly inspectors, of taking bribes in exchange for allowing the sale of rancid meat products, falsifying export documents or failing to inspect meatpacking plants at all.
The scandal prompted several export markets to temporarily close their doors to Brazil, the world's largest exporter of beef as well as chicken.
In a statement on Monday, the police cited evidence that five laboratories accredited by the Agriculture Ministry colluded with the analysis department of BRF to "falsify" test results related to the safety of its industrial process.
"The fraud had the intention to cheat inspection services so as to prevent the Agriculture Ministry from controlling the quality of the industrial process of the company under investigation," the police said.
BRF said in a securities filing that it was cooperating with the investigation to clarify the facts of the case.
In a court ruling authorizing the arrests, Judge André Duszczak said Faria and other BRF officers sought to cover up claims of possible food contamination, as shown in certain laboratory tests, made by a former employee in a labor lawsuit.
Maurício Moscardi Grillo, a federal police investigator, said officers "at all hierarchical levels, from the chief executive to the quality control manager" had knowledge of efforts to dodge food inspections and safety checks.
Over the weekend, pension funds which are BRF's largest shareholders presented a list of 10 candidates for seats on the board in a bid to shake up the business.
BRF said in a separate filing that a general shareholders assembly would take place on April 26. Brazil's Agriculture Ministry said in a statement that any meat processing plants targeted in the latest BRF probe would be temporarily barred from export.