An opening — nothing more — with North Korea (*)
Friday, March 9th 2018 - 17:44 UTC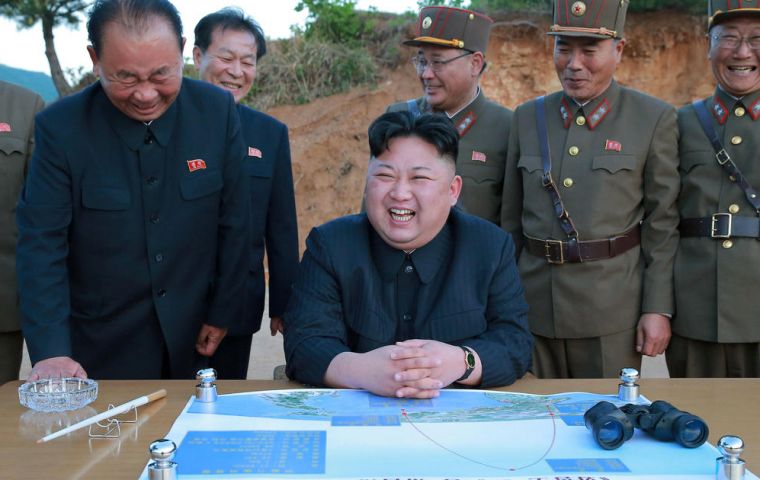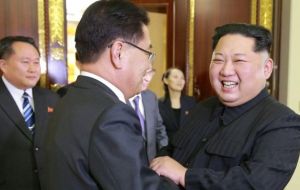 After meeting with North Korean leader Kim Jong Un, South Korean officials have reported that North Korea is willing to hold talks with the United States about its nuclear weapons program. If true — and there is much to be confirmed — the offer should be pursued. Caution must be the watchword of any discussions, however. Talks are welcome, but their goal must be the rollback and eventual elimination of North Korea's nuclear weapons program. Negotiations can never legitimate Pyongyang's nuclear ambitions or accept its status as a nuclear-weapon possessing state.
There has been breakneck progress in relations between the two Koreans since Kim reached out to Seoul in his New Year's speech and indicated his readiness to send North Korean athletes, officials and cheerleaders to the Pyeongchang Winter Olympics. A joint Korean team was duly formed and sanctions waved to allow a high-level delegation that included his sister, Kim Yo Jong, to attend.
Kim Yo Jong reportedly conveyed her brother's offer of a leaders' summit between himself and South Korean President Moon Jae-in. Moon initially hesitated, saying that conditions had to be right for a meeting. He did, however, dispatch a delegation to Pyongyang, which met with the North Korean leader and returned with news that Kim was prepared to hold "candid talks" with the U.S. and suspend its nuclear and missile programs while dialogue took place.
The U.S. response has been cautiously optimistic. President Donald Trump noted that "I think they are sincere" and that "it will lead to a very positive result." Unnamed U.S. officials were more circumspect, with one senior administration figure noting that "the North Koreans have earned our skepticism, so we're a bit guarded in our optimism." He added that "our posture toward the regime will not change until we see credible moves toward denuclearization."
That is the proper approach. The North Korean offer to talk is not official until it is reported by a North Korean source. If talks do occur, the past should serve as prologue. There have been many talks before and none have borne fruit. The U.S. has repeatedly offered security assurances that Pyongyang claims are essential but that has not slowed the development of its nuclear and missile programs.
More worrisome, Pyongyang claims that it seeks the denuclearization of the Korean Peninsula. But the only nuclear weapons on the Korean Peninsula belong to North Korea. That lends credence to the claim that the North seeks an end to the U.S.-South Korea alliance and the elimination of the U.S. nuclear umbrella that extends to its allies in Northeast Asia — including Japan. That is unacceptable.
It is most likely that North Korea is feeling the bite of international sanctions. The pressure on its economy is squeezing Kim's regime and forcing it to the negotiating table. Unfortunately, however, the North's nuclear arsenal has been written into the country's constitution — it is often referred to as a "treasured sword of justice" — and thus it is difficult, if not impossible, to see the leadership giving it up. That encourages the conclusion that the offer of talks is an attempt to buy time, and to see if Moon can be tempted to break with Washington and Tokyo and ease pressure on its neighbor. To his credit, he is holding the line. On Wednesday, Moon said that "Just because there are talks ongoing between North and South Korea doesn't mean international sanctions can be eased," adding, "There cannot be an arbitrary easing of sanctions; we do not wish to do that and I tell you now it is impossible."
Expect the North to suggest that Seoul demonstrate its commitment to inter-Korean solidarity in the coming weeks and offer a show of good faith in the lead-up to the summit that is scheduled to be held next month in the truce village of Panmunjom. By "show of good faith" they mean easing up on sanctions or providing economic assistance. China will encourage Seoul to do just that.
Japan's position is more skeptical. Chief Cabinet Secretary Yoshihide Suga was right to note that previous talks on denuclearization have failed and that it is "extremely important" that North Korea show a commitment to and concrete actions toward abandonment of its nuclear and missile development in a complete, verifiable and irreversible way. Defense Minister Itsunori Onodera added that there would be no change in Japan's position that maximum pressure on Pyongyang was needed and that policy could only succeed if Japan, the U.S. and South Korea work together.
Talks are welcome. But dialogue for dialogue's sake is no solution — especially if the North uses that time to produce more fissile material or to advance its missile program. The North should make a concrete demonstration of its intention to denuclearize the Korean Peninsula. The suspension of all tests during the discussion period is a first step. Recognition that U.S.-South Korea military exercises are a necessity and not a threat to the North would be another good sign. If the North uses those exercises — scheduled to resume after the Olympic Games suspension — as an excuse to resume testing then we can be sure that it is not sincere in its offer to talk.
(*) The Japan Times editorial