Norwegian Air expands into domestic flights in Argentina and Brazil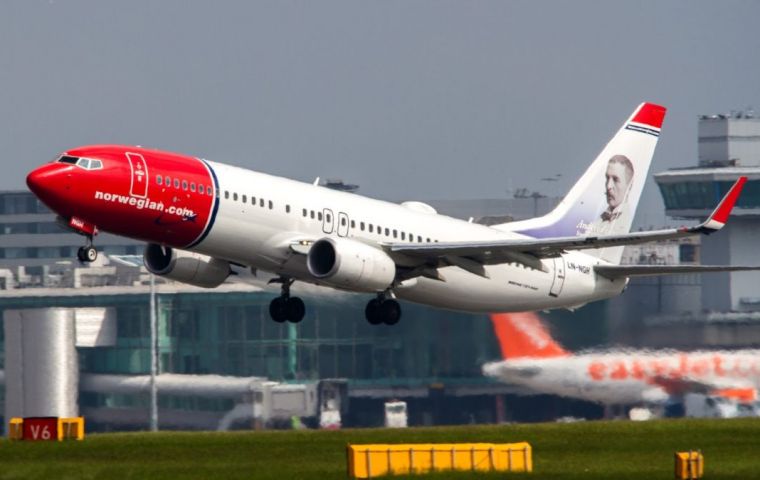 Norwegian Air Shuttle ASA plans to fly to Brazil from Argentina and London to boost its month-old operations in South America, Chief Executive Officer Bjorn Kjos said in an interview in Buenos Aires. The Scandinavian company has already received authorization from the Argentine government to operate flights to 13 Brazilian cities. Norwegian is evaluating flying in other Latin American nations, Kjos said, declining to give more details.
"We serve a lot of places in the U.S. and in Europe, but South America is our focus in 2018," said Kjos, 71. "There are other countries with priority in South America that are not that well served."
The airline is entering a busy market, and will need to push its low-cost flights to stand out. Those flying to Europe already include Latam Airlines Group SA, TAP-Transportes Aereos Portugueses SGPS and Air France-KLM, the latter two of which are backed by local operators Azul SA and Gol Linha Aereas Inteligentes SA, respectively.
Norwegian is one of several low-cost carriers jumping into Argentina amid President Mauricio Macri's push to open routes to new players and lower consumer costs in Argentina. It began flying from Buenos Aires to London in February. In December, Norwegian Air got the go-ahead from Argentine authorities to operate up to 72 domestic and as many as 80 international routes.
Kjos said challenges remain. The Argentine government maintains a floor on prices -- an impediment to carriers looking to sell flights at bargain prices. And airport fees remain higher than elsewhere in the region.
"We can be profitable with the airport fees and the minimum fare," Kjos said. But changes "are important for the country's ability to compete."
The company will begin selling tickets for domestic flights in May and hopes to begin flying in August. It has no short-term plans to get a local air operator certificate (AOC) for domestic flights in Brazil.