Argentine envoy in Washington to negotiate exemption of higher metal tariffs
Tuesday, March 13th 2018 - 09:31 UTC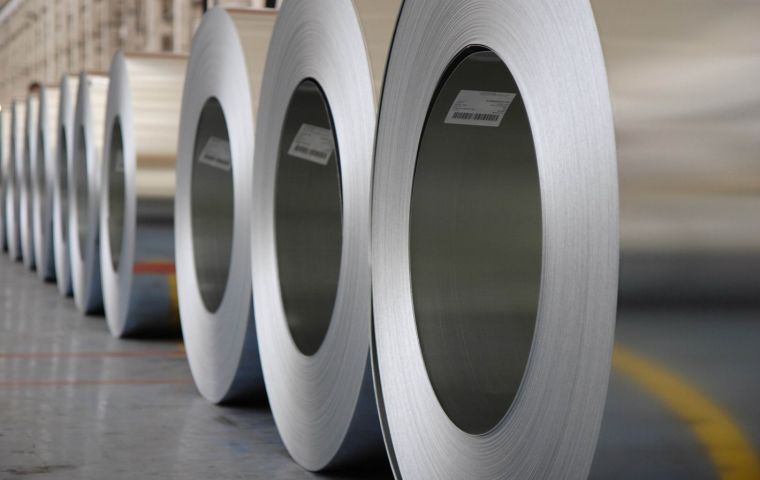 Argentina's Commerce Secretary Miguel Braun travelled to Washington to negotiate an exemption to the higher tariffs recently placed on steel and aluminum imports by the Donald Trump administration.
"It's a little work visit where I'm going to have different meetings but obviously it coincides with the issue (of the higher tariffs) and of course we're going to discuss it and try our best to see Argentina get a better deal", he told FM Millennium's radio in Buenos Aires.
"Clearly the percentage of Argentine exports of steel and aluminum to the United States is very small. The United States cannot think that our country is a threat to national safety, which is why we are going to present our best arguments", Braun added.
The Argentine government was quick to respond to Trump's decision to raise steel and aluminum tariffs which jump to 25 and 10 percent respectively.
The Argentine Foreign Ministry confirmed on Friday it would "engage in dialogue with corresponding authorities in the United States to secure an exception from those tariffs so Argentina can export both products", a statement read.
"Among our arguments, we emphasize the small participation our sales have in the US market. In effect, Argentine exports represent just 0.6% of steel and 2.3% of aluminum imports into the United States in those respective areas", it added.
While some countries like Australia have received positive signals of a possible exception on tariffs, many economists and political observers are concerned about the prospect of a trade war.
"The debate in the world (about tariffs) stems from a situation of openness and integration in which the competitiveness of countries that subsidize their production has prompted a great deal of concern", Braun noted.
"There has been an industrial shift toward Asia, particularly, which has worried the United States, Europe and other industrialized countries", he added.