Brazil's speaker of the Lower House also wants to run for the presidency
Tuesday, March 13th 2018 - 09:20 UTC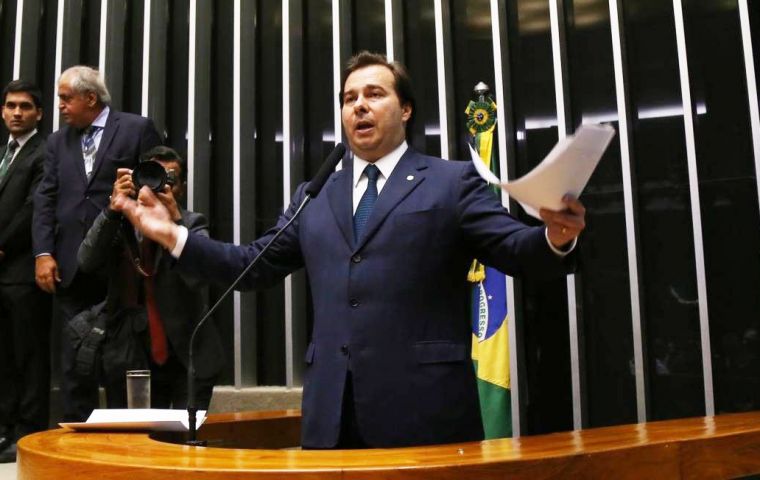 The speaker of Brazil's lower house of Congress, Rodrigo Maia, said he will run for the presidency with a market-friendly platform advocating tax cuts and more efficient public spending. Maia's preliminary nomination by his centre-right Democrats party, the main ally to President Michel Temer, must be formalized at a convention in late July.
While his party is the sixth-largest in Congress, Maia, 48, ranks very low in early polling. With just 1% of voter intentions in a recent Datafolha survey, he is faring no better than Temer, Brazil's most unpopular president on record.
Maia said he would eschew "irresponsible populism" – an indication he would continue Temer's reform efforts to rein in a bulging budget deficit.
Antonio Carlos Magalhães Neto, the head of Maia's party, called for improved public spending to save public resources. "We will encourage economic production, not because we are slaves to the market, but because it is the best way to create wealth and help the welfare of those in need".
On the left, former Ceará governor Ciro Gomes also announced his presidential bid for the PDT party.
Gomes and environmentalist Marina Silva are expected to receive some of the votes that would go to Brazil's most popular politician, ex president Lula da Silva, who will likely be barred from running due to a corruption conviction that could also land him in prison.´
Not counting Lula, the early favorite among a wide open field of candidates is far-right Congressman Jair Bolsonaro, a former army captain who advocates easing gun controls to fight rampant crime in Brazil.