Falkland Islanders mark Commonwealth Day with a range of events
Tuesday, March 13th 2018 - 20:44 UTC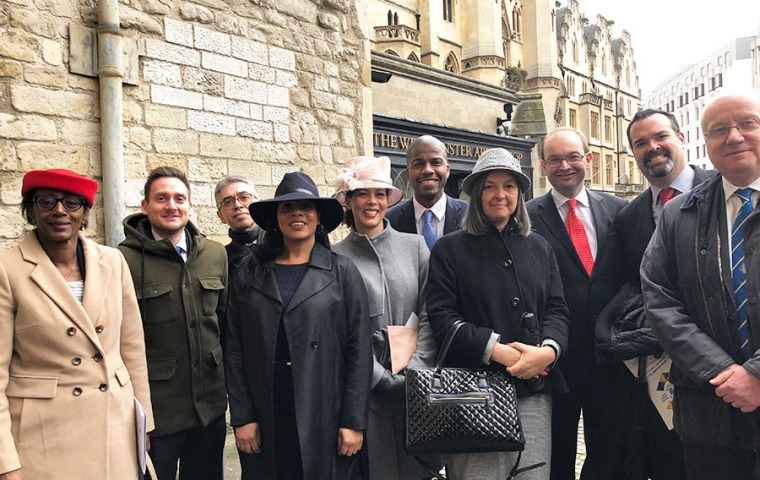 On six continents around the globe, the currently 53 countries of the Commonwealth marked Commonwealth Day earlier in the week. The day included messages to the Commonwealth from Her Majesty the Queen as well as the UK Prime Minister, both of which have been covered by MercoPress. However, the Falkland Islands also reaffirmed its ties to the Commonwealth over recent days both within the Islands and elsewhere in the world.
The Falkland Islands, due to its constitutional status as a UK Overseas Territory, are not a full member of the Commonwealth. However, they are accepted as part of the Commonwealth family and attend political events across the Commonwealth and also the Commonwealth Games in their own right. For example, Michael Betts, the Deputy Falkland Islands Government Representative in London (FIGO), attended the annual Commonwealth Day Service at Westminster Abbey on Monday. The vent was attended by Her Majesty the Queen and also Prince Harry and his fiancé Meghan Markle.
Afterwards Mr Betts said that "I had the privilege to represent the Falkland Islands Government at the service and it was a wonderful experience to witness the celebration of the Commonwealth. I was sat with the other Representatives of the British Overseas Territories and had a great view of the proceedings. I was inspired by the message of unity and working together to make the world a better place."
This follows on from two young Falkland Islanders representing the Islands at the Commonwealth Youth Parliament hosted in Jersey earlier in the month. Islanders Tiphanie May and Lucinda Lowe attended and spoke on behalf of the Islands during a range of discussions. Such events are normally held annually and look to allow younger members of commonwealth countries to experience Westminster-style parliamentary debates.
In the Falkland Islands itself the local government have developed over recent years a set of events which often includes local students. For example, the Commonwealth Flag was raised outside of the schools and the student council of the Community School spoke with university students in India. This broadening of horizons and understanding of other cultures has been a recurring theme of commonwealth day globally and has been embraced by students within the Islands.
The next main Commonwealth event to be attended by the Falkland Islands will be the Commonwealth Games in Australia from the 4th until the 15th April 2018. The Islands will be represented by a small team of athletes across a range of sports including badminton and shooting. The Islands have attended the games for a number of decades and, whilst rarely threatening the medal table, are always well received by host country fans due to their being one of the smallest teams in attendance. Look out on MercoPress for further reporting closer to the games commencing.
Following the conclusion of the Commonwealth Games is the Commonwealth Heads of Government (CHOGM) meeting to be hosted in London starting on the 19th April.