Tillerson fired, Trump names CIA chief Pompeo new Secretary of State
Tuesday, March 13th 2018 - 15:28 UTC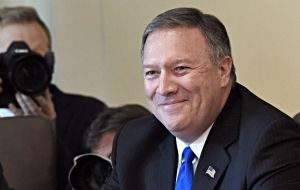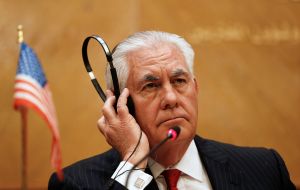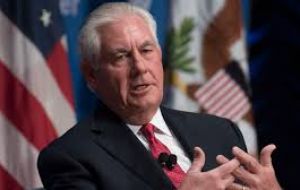 Rex Tillerson was fired as secretary of State on Tuesday, ending a tumultuous tenure as America's top diplomat that was marked by a series of public disagreements with his boss — President Donald Trump.
Trump said he will nominate CIA Director Mike Pompeo to replace the former Exxon Mobil chief executive and Deputy CIA Director Gina Haspel to run the spy agency. She would become the first woman to do so.
The Washington Post first reported the news, which the president quickly confirmed in a tweet. Tillerson found out about his firing through Trump's tweet on Tuesday morning, according to a senior State Department official.
"Mike Pompeo, Director of the CIA, will become our new Secretary of State. He will do a fantastic job! Thank you to Rex Tillerson for his service! Gina Haspel will become the new Director of the CIA, and the first woman so chosen. Congratulations to all!", said the presidential twit.
State Department spokesman Steve Goldstein said Tillerson had no plans to leave. He "did not speak to the president this morning and is unaware of the reason" for his firing, the spokesman added.
Trump later told reporters he disagreed with Tillerson on some issues and feels he "will be much happier now."
"Rex and I have been talking about this for a long time. We got along actually quite well, but we disagreed on things," the president said as he left for California. "When you look at the Iran deal, I think it's terrible, I guess he thought it was OK. … So we were not really thinking the same. With Mike Pompeo, we have a very similar thought process. I think it's going to go very well."
In a statement, Trump said he is confident Pompeo "is the right person for the job at this critical juncture." The Army veteran and former congressman will "continue our program of restoring America's standing in the world, strengthening our alliances, confronting our adversaries, and seeking the denuclearization of the Korean Peninsula," the president said.
If confirmed by the Senate, Pompeo would take on Tillerson's tough task of coordinating policy with an often unpredictable president. Tillerson's departure was widely expected for months, but he reportedly wanted to serve a full year.
It is unclear what the secretary of State's exit means for other top Cabinet officials. Tillerson, Defense Secretary James Mattis and Treasury Secretary Steven Mnuchin reportedly forged a "suicide pact" in which the others would resign if Trump tried to remove one of them.
Since Tillerson took the post in February 2017, mixed messages repeatedly came out of the White House and a State Department with diminishing relevance. The intramural clashes between the president and secretary of State came amid major international crises, including a potential nuclear showdown with North Korea.
Trump confirmed on Tuesday he did not consult with Tillerson when making last week's decision to meet with North Korea's Kim Jong Un.
Trump asked Tillerson to step down on Friday, according to the Post in a report that contradicts the State Department's account. The secretary of State canceled scheduled events in Kenya on Saturday, and at the time the State Department said he was not feeling well. Then, he diverged from the White House this week in saying poison was used on a former spy in the United Kingdom "came from Russia"
Tensions between the president and his top diplomat hit one high when Tillerson, 65, publicly distanced himself from the president's defiant response to violence at the white supremacist rally in Charlottesville, Virginia, last year.
But there were numerous other clashes. The policy rift emerged most sharply when Trump tweeted in October that Tillerson is "wasting his time" trying to negotiate with North Korea to end its nuclear and missile programs.
The president wrote: "Save your energy, Rex, we'll do what has to be done!"
In October, NBC News reported that Tillerson already came close to resigning last summer but was urged to stay in the job until the end of the year. He referred to Trump as a "moron" in July following a meeting with the president's national security team, according to NBC, which cited multiple high-level administration sources.
Tillerson never denied using "moron" to describe the president.
Tillerson was among Trump's deputies who tried to prevent the president from pulling the United States out of the Paris climate agreement and taking steps to scrap the Iran nuclear deal.
In an early clash, Trump criticized Qatar as "a funder of terrorism" in June about an hour after Tillerson urged Gulf states to ease a blockade against the tiny monarchy.