Francis fifth year as Pope: a fearless reformer overwhelmed by the Church's sex abuse scandals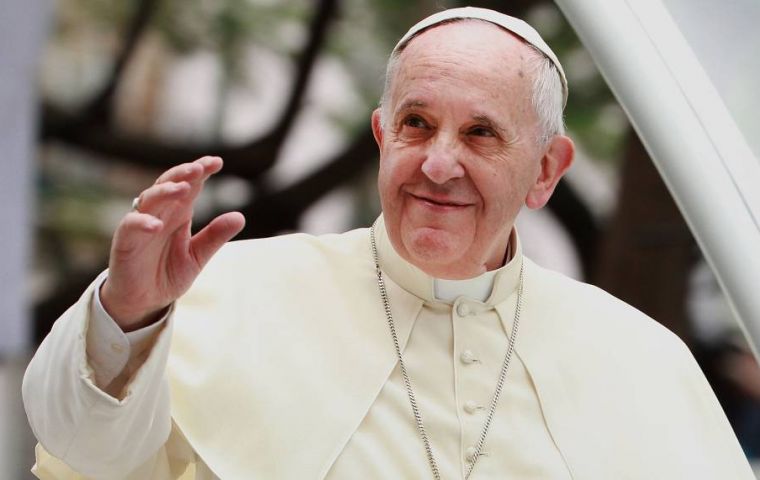 As Pope Francis marks the fifth year of his papacy next week, the pontiff once hailed as a fearless reformer is under fire for his handling of the sex abuse scandals that have rocked the Roman Catholic Church. Since taking over in March 2013, the 81-year-old Argentine has championed the cause of the marginalized, saying he wanted a "poor church for the poor" and shunning papal palaces and ostentatious displays of wealth.
His reform agenda has introduced the possibility in certain cases to allow divorced and remarried believers to take communion, although he still agrees with the Church's traditional positions on other issues, such as abortion, artificial contraception and gay marriage. But the sex abuse scandals have haunted his papacy and last month the Vatican announced it was reviving its anti-pedophile panel.
A trip to Chile in January was seen as a resounding failure after he defended a bishop accused of covering up the crimes of a pedophile priest. Francis, who like his predecessor Benedict XVI, promised a "zero tolerance" approach to sexual abuse, sparked uproar when he said: "The day they bring me proof against Bishop (Juan) Barros, then I will speak." But he later apologized to the victims and sent a Vatican top expert on sex abuse to hear the witnesses in the case.
Marie Collins of Ireland, who was abused as child by a priest, said that while it might be "human nature to want to defend your institution… the Church, instead of learning from the past, is repeating the mistakes of the past." "The Church tends to make the same mistake-in every country where survivors start to come forward, they are treated in the same way," said Collins, who resigned last year from the now revived anti-pedophilia commission.
Francis was similarly lenient towards Don Mauro Inzoli, an Italian priest nicknamed "Don Mercedes" for his expensive tastes. Don Inzoli had been effectively defrocked by Benedict, but Francis overturned that ruling, mitigating his sentence to "a life of prayer." Nevertheless, after the priest was sentenced to nearly five years in prison in Italy for sex abuse of adolescents last June, the pope dismissed him of clerical duties. When Francis set up the commission in December 2014 to look into how to protect minors and vulnerable adults in the Church, Collins was one of two abuse survivors to sit on the panel.
Collins walked out in March 2017, denouncing the "shameful" lack of cooperation within the Vatican and complaining that a tribunal announced in 2015 to deal with pedophile priests has never actually been set up. German Cardinal Gerhard Mueller, the Church's top doctrinal watchdog who has since been ousted by Francis, argued that the tribunal would double up with already existing bodies.
Catherine Bonnet, a French child psychiatrist who also sat on the commission, complained that "in three years we only had six plenary meetings in Rome". "We did have regular e-mail exchanges, but it's hard to debate in that way," she revealed.
"We have made proposals on important points, but, to my knowledge, Pope Francis has not given answers, which is really worrying. "The problem is that the pope is extremely busy with many issues. But the issue of protecting today's children is urgent. Children continue to be abused and raped within the Church."
Collins said "the words coming from the pope and the Vatican are very good. The problem is, the actions don't follow through." For her, the problem was "that those within the Vatican don't see how their actions are viewed from outside." The decision, for example, to hold the funeral of disgraced US Cardinal Bernard Law in the St. Peter's basilica in December may have been within liturgical tradition. But it caused offence to survivors of sexual abuse in the US.
Law, a former Boston archbishop, became one of the main faces of the sex abuse crisis in the Roman Catholic Church after admitting that he failed to protect children from predator priests, despite evidence they had been molesting youngsters.
Another case casting a shadow over Francis' papacy is the Vatican's finance chief Cardinal George Pell, who is facing committal proceedings in Australia to determine whether he should stand trial on multiple historical sexual offence charges.
As the Vatican's number three, 76-year-old Pell is the highest ranking Catholic official to face such charges. The pope did however, oversee a change in Church law in 2016 allowing bishops to be dismissed in cases of "negligence" when reporting incidents of pedophilia.