Hammond and Johnson will be visiting Argentina
Friday, March 16th 2018 - 10:06 UTC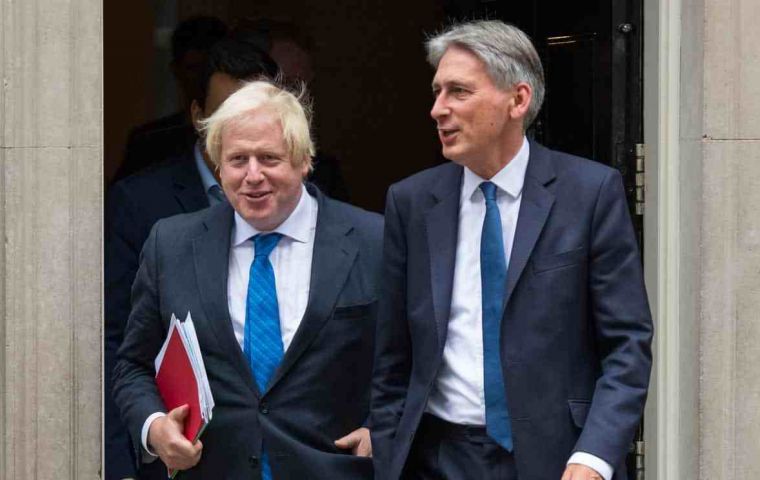 British Chancellor Philip Hammond and Foreign Secretary Boris Johnson are scheduled to visit Argentina as part of the G20 ministerial round of meetings in coming weeks, announced UK ambassador Mark Kent following talks on Thursday with foreign minister Jorge Faurie.
Hammond will be participating in the G20 finance ministers meeting next week and Boris Johnson will be in Buenos Aires in May.
Minister Faurie and ambassador Kent also addressed issues related to the Falklands, such as fisheries conservation, management of shared marine resources and the resurrection of the scientific South Atlantic Fisheries Commission, which apparently will be holding a first meeting sometime next May. Currently the talks on this approach have been defined as in the exploratory stage.
Another issue is the coming March 26 trip of relatives from the recently identified 90 Argentine soldiers buried at the Argentine cemetery and the prospects for a second flight between the Falklands and a third country with a stop in Argentina, plus consideration of the regional airlines interested in the link.
The Argentine/UK talks on these different topics apparently are advancing to the satisfaction of both sides. But probably the real challenge and test will be next week, March 21, when Faurie will be going to Congress to meet a plenary of commissions very much interested in the ministerial explanation of president Mauricio Macri administration policies regarding the Falklands and the South Atlantic.
Malvinas is a highly sensitive issue in Argentine politics and even members of the ruling coalition have reservations about the current emphasis of the Malvinas closer links as a result of the UK/Argentina joint communiqué from September 2016.