Ushuaia at Seatrade in Miami praised for the port services improvements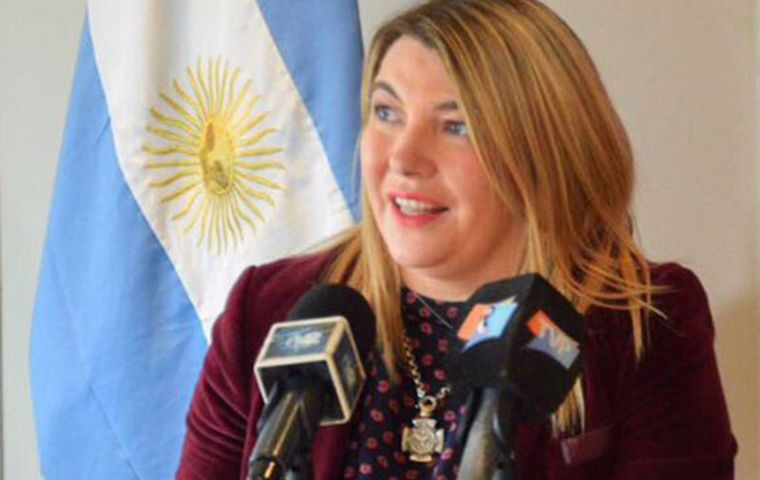 The port of Ushuaia in Tierra del Fuego expects to end the current 2017/18 cruise season with over 339 calls, fifty more than in the previous season, revealed governor Rosana Bertone who attended the SeaTrade International Fair in Miami, the world's major event of the industry.
The governor also advanced that Ushuaia will have an extra pier, exclusive for cruise vessels, while the rest of the terminal will be fully dedicated to trade, containers and the fishing vessels.
"Last season we had 282 cruise calls, and this season we will have some 335, and hopefully by 2020 we are aiming at 430" said governor Bertone, who added this was a goal shared by the president of the port administration, Nestor Lagraña".
Bertone also mentioned that while in Miami she was consulted by cruise companies on issues such as migration, customs, sanitary controls and port services, and fortunately "we were able to advance positive replies since with the help of the federal government, we have made progress in all these issues"
The governor in a speech to the cruise companies detailed some of the plans to increase the docking capacity of Ushuaia port, and the coming bid for the construction of a pier exclusive for cruise vessels. "We have the funds allocated by the local legislative and together with bonds floated by the Tierra del Fuego government, we should be ready in just a few months for the big challenge". Bertone estimated that all the documents for the bidding process to expand Ushuaia port should be ready in some eight months.
"We must be aware that cruise vessels are larger and larger and we need more docking capacity in our piers to address the increase in the number of visitors, which means more activity for our economy and genuine jobs for our people".
As to the current improvements the governor mentioned that Ushuaia since a few months provides free wi-fi which is very much appreciated by visitors since the internet service on board cruise vessels is quite expensive.
Finally besides underlining the significance of the Ushuaia port as gate to Antarctica, and its contribution to the local economy, Bertone said that some 100 million dollars had been invested in improving the sewage system, with treatment plants which has drastically seen pollution drop in the bay of Ushuaia, making the city even more friendly and environmentally sustainable for our visitors.
"Despite our ideological differences with the federal government, we have been able to work in coordination to address the problems of the city, helping to create more jobs which is the goal of rational governments, improving the conditions of its people" concluded governor Bertone. .