Ex-president Sarkozy, arrested for supposed illegal financing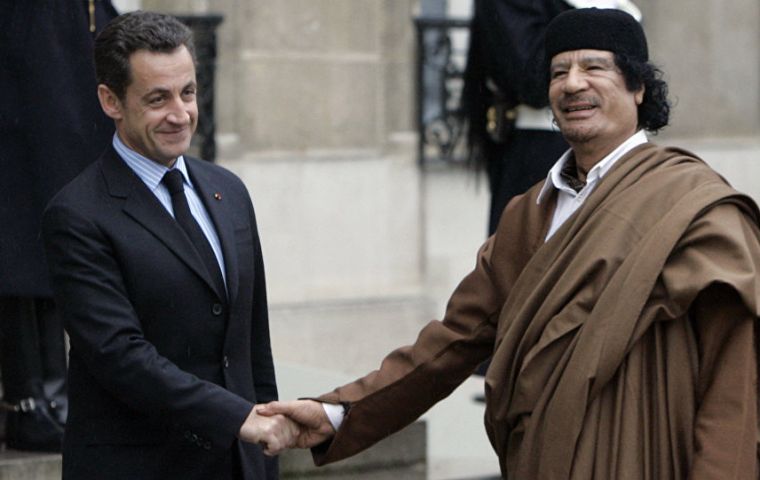 Former French President Nicolas Sarkozy has been arrested on Tuesday at west of Paris as part of an investigation that revealed he received millions of euros in illegal financing from the regime of the late Libyan leader Moammar Gadhafi in 2007.
It all started from a journalistic investigation launched in July 2011 in the French digital newspaper Mediapart by journalists Fabrice Arfi and Karl Laske. The case extended when French-Lebanese businessman Ziad Takieddine told to the French site that he delivered suitcases from Libya containing 5 million euros ($6.2 million) in cash to Sarkozy and his former chief of staff Claude Géant.
According to the investigation, Gadhafi's regime would secretly gave Sarkozy 50 million euros overall for the 2007 campaign. Such a sum would be more than double the legal campaign funding limit at the time of 21 million euros. Some of these disbursements were hidden through a complex system of false invoices.
The alleged payments would violate French rules against foreign financing and declaring of the sources of campaign funds.
Takieddine said he was given 5 million euros in Tripoli by Gadhafi's intelligence chief on trips in late 2006 and 2007 and that he gave the money in suitcases full of cash to Sarkozy and Géant personally on three occasions while Sarkozy was interior minister.
After the publication of severe documents through two large reportages on Mediapart, the investigations of the magistrates have advanced considerably, reinforcing the suspicions hanging over the campaign of the former head of state.
Sarkozy will remain detained at Nanterre, west of Paris for questioning for the possible crime of illicit financing in the political campaign that led to his victory in the 2007 presidential election.
Soon after becoming the French president, Sarkozy invited the Libyan leader to France for a state visit and welcomed him with high honors. But Sarkozy then put France in the forefront of NATO-led airstrikes against Gadhafi's troops that helped rebel fighters topple his regime in 2011, says AP.