Francis balancing act in a letter to Argentines on the fifth anniversary of his pontificate
Tuesday, March 20th 2018 - 10:15 UTC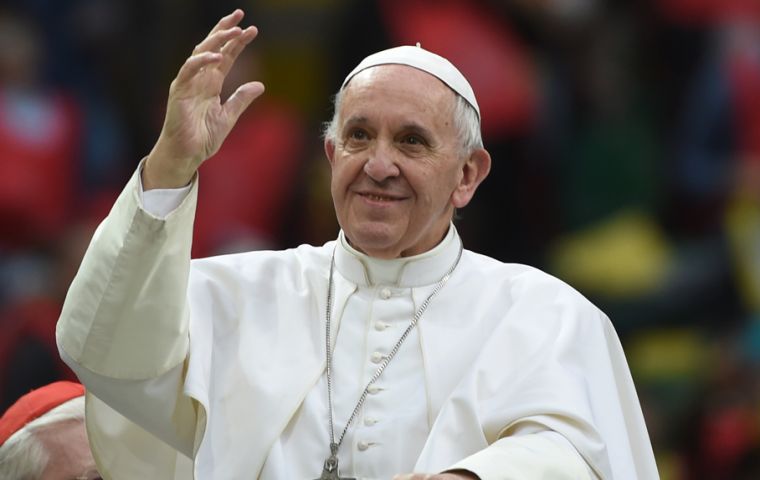 In a letter addressed to Argentine women and men who expressed their closeness on the fifth anniversary of his pontificate March 13, Pope Francis said his love for Argentina continues to be "great and intense," and also apologized for gestures he's made that might have caused offense.
Francis opened the letter thanking politicians and religious leaders from different backgrounds who sent the letter to him. Among them were people from the government of conservative President Mauricio Macri and the opposition, as well as union and social leaders.
According to the pontiff, the lineup shows that it's "not impossible to find reasons to come together, and that 'unity is prevails over conflict'."
"Unity prevails over conflict" is one of four principles Francis has often used, including for instance in his apostolic exhortation Evangelii Gaudium. The other three are "time is greater than space; realities are more important than ideas; the whole is greater than the part," and there's evidence of the pontiff using them going back to his early years as a Jesuit provincial in Argentina.
In the letter to his fellow Argentines, Francis wrote that he prays every day for his people, and apologized to those who "may feel offended" by any of his gestures.
"Although God entrusted me with such an important task and He helps me, He didn't free me from human frailty. That's why I can make mistakes like everyone else," the pope wrote, in a letter signed March 16 and delivered to Bishop Oscar Ojea, President of Argentina's bishops' conference.
Ever since his election, and despite the fact that 80% of his countrymen have a positive view of Francis, he has been a divisive figure in Argentina, particularly in the media and among politicians, many of whom have pilgrimaged to Rome for a picture with the pontiff. The long list includes members of this government and the previous one, both in official and unofficial capacities.
For instance, former president Cristina Kirchner, who once dubbed then Cardinal Jorge Mario Bergoglio as the leader of the opposition, met with Francis seven times. It's been widely reported in Argentine newspapers that the motor behind those meetings was fear for the country's democracy, and he's avoided her ever since.
On the other hand, he's only met with Macri three times since he was elected pope, and only once since the former mayor of Buenos Aires became president in late 2015. Few Argentines forget that the meeting lasted only 22 minutes.
But the list of Argentine politicians who've gone to Rome is long, and the list of people for whom Francis has sent a letter or a rosary is even longer, even if few decide to make a private gesture public.
For instance, he's sent a rosary to Milagro Sala, a controversial Tupac Amaru leader, a month after she was imprisoned under fraud and embezzlement charges, back in 2016. She'd sent a letter to him, and he responded with silence and a rosary, which as Archbishop Manuel Fernandez, often labeled as the pope's ghostwriter, said, is an "instrument of prayer."
At a greater level, Argentines wonder why the pope has traveled to every corner of the world, including several tours to Latin America, but still hasn't gone back home. He made a side reference to this in his letter.
"You are my people, the people that formed me, prepared me, and offered me to the service of people," he wrote. "Even though we now don't have the joy of being together in our Argentina, remember that the Lord has called one of you to take a message of faith, mercy and fraternity to many corners of the earth."
At a time when Argentina is debating legalizing abortion, Francis urged everyone to "make their contribution in the defense of life and justice," and to sow "peace and fraternity," making the world a better place through their work, and caring for the weakest one. He closed his letter with his usual request of prayers from those who believe, and of good wishes from those who don't.