Lula begins tour of south Brazil and meets Mujica, but it was a bad day for both leaders
Tuesday, March 20th 2018 - 08:16 UTC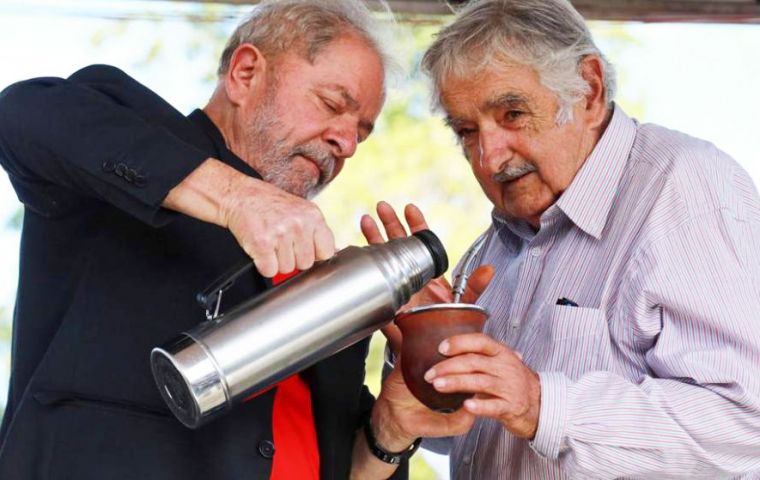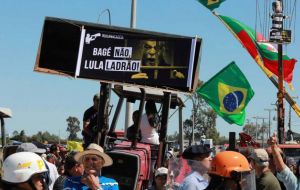 Protesters interrupted the start on Monday of an election campaign tour by former Brazilian president Lula da Silva, who leads opinion polls but faces a lengthy jail sentence for corruption. Police had to intervene to separate some 150 protesting farmers and Lula's supporters in Bage, where the populist leader was starting a bus tour of southern Brazil ahead of October 7 elections.
The protesters brandished an effigy depicting Lula in prison garb and shouted: "Lula, thief, your place is in prison!" Supporters played accordions and chanted back: "Lula, warrior of the Brazilian people!"
Lula, 72, from Bage travelled to Santana do Livramento on the border with Uruguay to meet another charismatic populist, ex Uruguayan president Jose Mujica. The tour runs through March 28.
Lula, who was president from 2003-2010, easily leads in polls of possible presidential candidates. However, his chance for a comeback appears doomed by the likelihood of an imminent start to his prison sentence, and besides polls also show that he has a higher rejection percentage.
An appeals court sentenced him to 12 years and one month in January after upholding his conviction for having taken an upscale seaside apartment as a bribe from a construction company involved in Brazil's massive "Car Wash" corruption scheme.
The same court is now due to decide soon on a technical challenge to that ruling. If it goes against Lula, he could face almost immediate incarceration. However, Lula's lawyers have been working on multiple legal fronts to try and keep him out of prison -- or get him out as soon as possible if he is forced to begin serving the sentence.
Meeting with Mujica in the border town of Santana do Livramento was not that successful as expected. Again he met anti-Lula groups and it was not a good day for Mujica either.
In Montevideo a prosecutor asked for charges against former vice president Raul Sendic, who resigned from his post a year ago under strong allegations of corruption and lying to Congress. Sendic alleged to have an academic degree, and had all official papers stamped with his non-existent title which he insisted was achieved at Havana university. The Cuban university denied point blank such degree or the discipline invoked by the Uruguayan ex vice-president.
Furthermore Sendic is the son of the founder of the urban guerrilla movement Tupamaros and Mujica was grooming him for president. He managed to force him as the running partner of president Tabaré Vazquez in the 2014 election, but before that Sendic was head of the Uruguay's fuels refining and distribution government monopoly. The company, Ancap is also responsible for making cement under competition. Anyhow his mismanagement cost the Uruguayan Treasury an estimated 900 million dollars, plus a long list of personal expenses, at home and overseas, unrelated to his post.
Meeting Mujica could be a strong encouragement message for leftwing voters but not a good omen for Lula da Silva. Since leaving office in March 2015, all the elections Mujica has openly sponsored or supported at home or overseas had him on the losing side, including his wife Lucia Topolansky's bid to run for mayor of Montevideo.
This is the fourth stage of Lula's caravan throughout Brazil and will include at least three states: Rio Grande do Sul, Parana and Santa Catarina, and will end on March 28. Initially scheduled to start on February 27, the tour was postponed to coincide with the beginning of the school year, because Lula will visit several institutes and universities.
The first phase of the caravan took place from August to September 2017 and visited nine northeastern states. Later, the second Lula for Brazil caravan toured seven regions and 21 cities in the state of Minas Gerais from October 23 to 30, 2017. The third stage included Rio de Janeiro from December 4 to 8, 2017.