Foreign minister Faurie will outline Argentine policy towards Falklands in Congress
Wednesday, March 21st 2018 - 06:09 UTC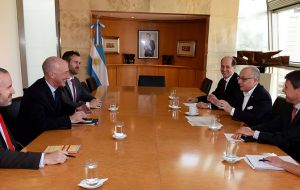 Argentine foreign minister Jorge Faurie is expected this Wednesday in Congress to outline president Macri administration's current policy towards the Falkland Islands, mainly negotiations on air links and South Atlantic fisheries conservation.
This follows on what is considered a very successful experience in the identification of Argentine soldiers remains buried in Darwin cemetery, with the participation of a team of forensic experts under the guidance of the International Red Cross Committee. Relatives of the now 90 identified remains will be flying on 26 March to the Falklands for a ceremony to honor their loved ones and replace plaques that read, "Argentine soldier, only known unto God", with others with their full name.
Last week minister Faurie and UK ambassador Mark Kent addressed the Falklands agenda and allegedly it was agreed to resuscitate the South Atlantic scientific fisheries committee which was born in the nineties under the government of ex president Carlos Menem and in 2005 was discontinued by ex president Nestor Kirchner and his aggressive policy towards the Islands development and its economy.
The South Atlantic committee, involving Argentina, UK and the Falklands, was responsible for gathering data on squid and fish stocks obtained in joint scientific cruises, which helped to agree on conservation and environment measures. Its area of action was between 45 and 60 degrees latitude South West Atlantic.
However this time according to Argentine sources the horizon and responsibilities of the committee are more ambitious since there is a greater challenge beginning is mile 201, outside the Economic Exclusive Zones. In effect hundreds of jiggers and trawlers fish in international waters with an impact on Argentine and Falklands stocks when migrating species are involved.
Apparently and again according to Argentine sources this case in international waters, could be framed as illegal, unreported and unregulated fishing, and thus "should also involve Uruguay which plays a strategic role" as a logistics and provision center for those hundreds of vessels operating in the South Atlantic.

Anyhow whether Uruguay is invited, accepts it plays such a role or is compelled to participate has yet to be seen, but what is certain is that a first meeting of the reborn South West Atlantic Fisheries committee is scheduled to take place next May, with the participation of "officials from the foreign ministries plus experts and scientists from both sides".
It will also be interesting to see what are the Argentine congressional reactions to the current Macri administration's emphasis in addressing South Atlantic policies, in line with the Joint Communiqué from September 2016. The issue is highly sensitive, even for the cohesion of the ruling coalition.