Mercosur "blocks" talks on auto exports and government procurement contracts, claims EU
Wednesday, March 21st 2018 - 07:07 UTC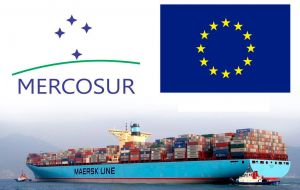 European officials said this week that significant obstacles remain to a long-delayed trade deal between the European Union and Mercosur, even as South American officials expressed optimism a deal would be finalized soon.
On the sidelines of a gathering among the finance ministers and central bank governors of the G20 countries in Buenos Aires, an Argentine Treasury Ministry official said the talks would finish in the first half of this year. An initial target for December of last year was pushed back after EU countries said they needed more time.
"There are very few points left," the official said, adding that Argentine Treasury Minister Nicolas Dujovne would meet with French finance minister Bruno Le Maire.
Farmers in France and some other EU members are resistant to an expected increase in beef and bio-fuel imports from Mercosur. Le Maire said European producers were concerned about unfair competition.
"For the time (being) the negotiation on the Mercosur (deal) for different reasons is blocked," Le Maire told reporters. "You cannot explain to a producer that he has to stick to very constraining rules in Germany, France, Spain or Italy, and we'll (import) exactly the same good that will not be produced in the same manner on another continent."
Spain's Economy Minister Roman Escolano, however, said on Tuesday that talks were advancing toward a conclusion in "weeks or months." He added "There is growing consensus that the recent difficulties can be overcome and we can reach a deal".
An EU diplomat said Mercosur resistance to European proposals on automobile exports and geographic product indicators were also sticking points. Europe has also pushed for its companies to gain better access to government procurement contracts within Mercosur.
"I blame the Mercosur side more for this as they spent all of their energy moaning about the lack of ambition only to find that they hadn't cleared their lines with their domestic producers," the source said, adding that the issue was "not beef."
An official in Brazil's foreign ministry disputed Le Maire's characterization of the negotiations as "blocked," noting that France was not a party to the negotiations, led by the European Commission.
Trade issues have overshadowed the G20 meeting weeks after U.S. President Donald Trump announced plans to impose tariffs on steel and aluminum imports, with the world's financial leaders seeking to endorse free trade and the United States saying it could not sacrifice its national interests.