Red Cross: Rising humanitarian needs among Venezuelans entering Colombia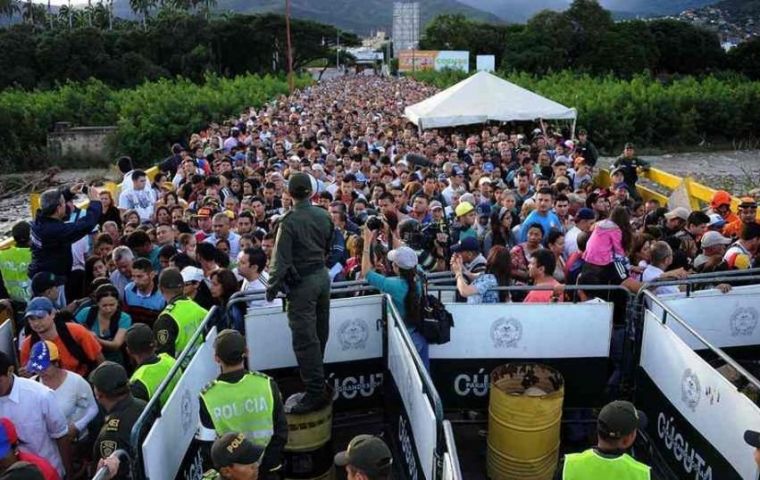 The Colombian Red Cross Society have been working for more than a year to support people arriving in Colombia and travelling through the country. Aid workers are warning of rising vulnerabilities among people crossing the Colombian-Venezuelan border and "are calling on the international community to increase support for humanitarian efforts", said a statement published by International Federation of Red Cross and Red Crescent Societies (IFRC) at Geneva.
In 2017 alone, an estimated 796,000 people entered Colombia from Venezuela through official migration points and Between 2,000 and 10,000 people are on the move within Colombia every day. Some are looking for a place of temporary or long-term shelter, others use Colombia as a transit area to approach further south countries as Chile, Argentina, Peru or Ecuador. These numbers do not include people using informal border crossing. This is a major concern as these crossings are typically in areas where non-state armed groups from both Colombia and Venezuela operates.
"We are increasingly concerned about this situation, and we believe that additional, urgent action needs to be taken to ensure that people can access basic services and support," said Walter Cotte, the IFRC Regional Director for the Americas.
At the border, you can easily see all kinds of migrants or people and officials taking advantage of the situation smuggling fuel or food.
"We crossed the border at Puerto Santander to reach the airport of Cúcuta with my husband and my 1-year old son", says Andrea Astorga, a Venezuelan dentist who found a job a in Uruguay with a pay 1200 times higher than the one she had in Venezuela. "Venezuelan officials ruined our luggage looking for drugs, money or food to give them and when they found nothing, they asked for a 'coima' which is a pay to let us pass to Colombia", added Astorga.
This situation is generating significant humanitarian needs in transit zones, places of temporary settlement or host cities in Colombia, especially along the Colombia-Venezuela and Colombia-Ecuador borders.
The statement follows that IFRC and the Colombia Red Cross have launched an international emergency appeal for 2.2 million Swiss francs, with the aim of providing expanded support to about 120,000 of the most vulnerable people who have crossed from Venezuela. The Red Cross aims to provide a range of basic services, including health care, shelter, water, sanitation and hygiene, cash transfer programming and livelihoods support.
In 2017, the Colombian Red Cross assisted more than 300,000 people. Their actions received financial backing from IFRC's Disaster Relief Emergency Fund (DREF).
"No one organization, agency or government can address this issue alone," said Mr Cotte. "Authorities must work closely with national humanitarian actors and other partners to coordinate and strengthen the humanitarian assistance available to people in need, and ensure they are treated with dignity and respect."