"Water for sustainable development": UN Secretary-General's message at launch of international decade for action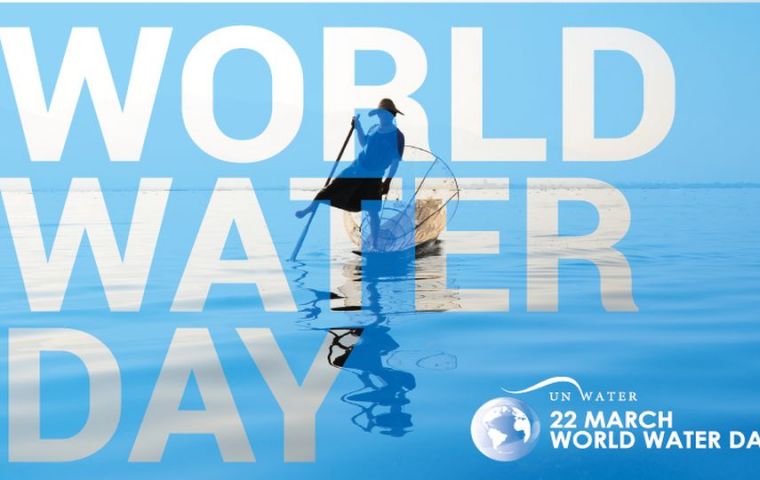 I am pleased to be with you on World Water Day to launch the International Decade for Action on Water for Sustainable Development.
I commend President Rahmon of Tajikstan for spearheading this effort at the General Assembly.
I recall my trip to Tajikistan last year, when I had the opportunity to see the impact of receding glaciers in the Pamir mountains.
During my visit, I also had the chance to attend the forum on the Sustainable Development Goals.
And it is clear these 17 global Goals are inter-related, interdependent and mutually reinforcing.
Safe water and adequate sanitation for all – the object of Sustainable Development Goal 6 -- are indispensable to achieve many other goals.
Safe water and adequate sanitation underpin poverty reduction, economic growth and healthy ecosystems.
They contribute to social well-being, inclusive growth and sustainable livelihoods.
But, growing demands for water, coupled with poor water management, have increased water stress in many parts of the world.
Climate change is adding to the pressure – and it is running faster than we are.
With demand for freshwater projected to grow by more than 40 per cent by the middle of the century, and with climate change having a growing impact, water scarcity is an enormous concern.
By 2050 at least one in four people will live in a country where the lack of fresh water will be chronic or recurrent.
Without effective management of our water resources, we risk intensified disputes between communities and sectors and even increased tensions among nations.
So far, water has historically proven to be a catalyst for cooperation not for conflict.
From my own experience, the Albufeira Convention, agreed during my time as Prime Minister of Portugal, continues to promote good relations on water management between Spain and Portugal.
And, there are many more examples of cooperation on water – between India and Pakistan, Bolivia and Peru, and several others.
But we cannot take peace – or our precious and fragile water resources -- for granted.
Quite simply, water is a matter of life and death.
Our bodies are 60 per cent water.
Our cities, our industries and our agriculture all depend on it.
Yet, today, 40 per cent of the world's people are affected by water scarcity; 80 per cent of wastewater is discharged untreated into the environment, and more than 90 per cent of disasters are water-related.
More than 2 billion people lack access to safe water, and more than 4.5 billion people lack adequate sanitation services.
What these numbers mean is a harsh daily reality for people in rural communities and urban slums in all regions of the world.
Many of the most serious diseases in the developing world are directly related to unsafe drinking water, poor sanitation, and insufficient hygiene practices.
Today, I am using the launch of the Water Action Decade to make a global call to action for water, sanitation and hygiene – or WASH -- in all health care facilities.
A recent survey of 100,000 facilities found that more than half lack simple necessities, such as running water and soap - and they are supposed to be healthcare facilities.
The result is more infections, prolonged hospital stays and sometimes death.
We must work to prevent the spread of disease.
Improved water, sanitation and hygiene in health facilities is critical to this effort.
Ladies and gentlemen,
We cannot continue to take water for granted and expect to achieve the Sustainable Development Goals.
Solutions exist and new technologies are in the pipeline to improve how we manage water for nations, communities and households.
But often these solutions are inaccessible for those who need them most, perpetuating inequity within and among countries.
As with most development challenges, women and girls suffer disproportionately.
For example, women and girls in low-income countries spend some 40 billion hours a year collecting water.
That is equivalent to the annual effort of the entire workforce of a country like France.
The time spent could be much better invested in earning a livelihood or – in the case of girls – attending school.
It is time to change how we value and manage water.
Last week, the High-Level Panel on Water delivered its outcome report, "Making every drop count: An agenda for water action".
Their work is deep, serious and inspiring for us all.
The United Nations stands ready to help countries to implement the Panel's recommendations, including by promoting policy dialogue, exchanging best practices, raising awareness and forging partnerships.
Member States have also asked me to prepare an Action Plan for the Water Decade, with the support of UN-Water – which I am determined to strengthen.
My plan sets forth three core objectives.
First, to transform our silo-based approach to water supply, sanitation, water management and disaster risk reduction to better tackle water stress, combat climate change and enhance resilience.
Second, to align existing water and sanitation programmes and projects with the 2030 Agenda.
Third, to generate the political will for strengthened cooperation and partnerships.
I look forward to implementing this plan.
The growing water crisis should be much higher on the world's radar.
Let us work collectively towards a more sustainable world, and an action-packed Decade of "Water for Sustainable Development".
Thank you.