United Nations agencies on strike over pay and employment conditions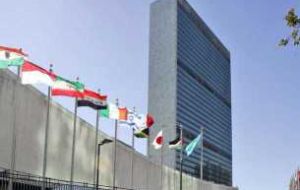 The International Trade Unions Congress, ITUC, has called on the United Nations to abandon unilateral pay cuts on UN staff, as well as other changes to employment conditions that would mean different pay rates for the same job and could lead to discrimination, especially against women returning to UN service after taking extended time out for family reasons.
UN employees in around the world have taken industrial action in protest at the cuts in cost of living allowances, with strikes by Geneva-based staff at the ILO and other UN agencies and a half-day stoppage at the UN Bangkok offices this week.
"We are seeking to meet with UN Secretary General Antonio Guterres as soon as possible, to call on him to abandon the cuts and fix the wage-setting system of the UN so that staff have a say in the process through their unions, and to change the defective system through which cost of living entitlements are calculated. We also wish to raise with him serious concerns about other aspects of the UN reform process which would weaken the UN and its specialized agencies.
The UN needs to listen to those who want it to be strong and effective, and not simply accept an austerity program imposed by some governments that want to weaken it. We stand in full solidarity with UN staff in their actions to ensure that the UN accepts that international law guaranteeing fundamental workers' rights are respected within the UN itself," said ITUC General Secretary Sharan Burrow.
The ITUC represents 207 million members of 331 affiliates in 163 countries and territories.