Data scientist Christopher Wylie: "The Brexit would not have happened without Cambridge Analytica"
Tuesday, March 27th 2018 - 15:21 UTC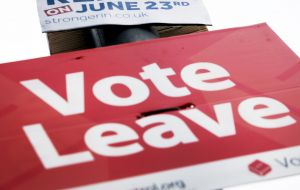 Christopher Wylie's specialty was to predict fashion trends before starting work at 17 for a Canadian politician, at 18 he participated in Obama's campaign to learn about his data management and later he helped to found Cambridge Analytica (CA), the consultant accused of misuse of data of about 50 million users of Facebook. However, Wylie said he feels regretful.
"Cambridge Analytica is a sample of modern colonialism", said Christopher Wylie to Members of the parliament in London. The Canadian gay, vegan, and pink haired data analyst who worked to the British political consulting firm reveals that CA provided cultural weapons to fight electoral wars not only in UK with EU referendum or US elections on 2016 but in many other countries from Europe, America and Africa.
According to Wylie, the idea in CA was to use the data of the social networks of millions of citizens to elaborate their psychological and political profiles and thus be able to send them political propaganda specially designed for them and try to influence their vote.
On Sunday, the former data analyst had a long interview with a small group of European journalists at the London law firm that helps him. When asked about CA's participation in Brexit, Wylie said that the Brexit would not have happened without the consulting firm. "It is important because the referendum was won by less than 2% of the vote and much money was spent on custom advertising based on personal data. That amount of money would buy you billions of impressions. If you address a small group, it could be final. If you add up all the groups that campaigned for the Brexit, it was a third of all the expense", said the analyst while warning "We are facing something fundamental for the constitutional reserve of this country and for the future of Europe."
"I think it is completely reasonable to say there could have been a different outcome of the referendum had there not been, in my view, cheating", confessed Christopher Wylie.
Cambridge Analytica collected personal information among Facebook profiles in order to make a figure of the personality of captive users. The terms and conditions of the social network allow applications to use user data to bring personalized advertisements.
If you make blogs or websites that look like news and show them all the time to people more receptive to a conspiratorial thought, they may think that mainstream news channels hides something when they see that it does not show anything they read on the internet. "One of the things we did in the United States is to investigate that notion of deep state and paranoia with the government. Things like what happens if they come and take your weapons. You can outline a group of people very receptive to these conspiracy theories", said Wylie.
The Commons MPs started an emergency debate on the allegations that Vote Leave broke election-spending rules in the EU referendum.