Gunsmith Viktor Kalashnikov passes away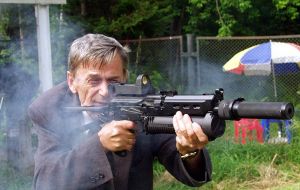 Viktor Kalashnikov, son of the legendary Soviet small arms designer Mikhail Kalashnikov, died in Izhevsk on March 27, the Izhevsk State Technical University announced on Wednesday.
Kalashnikov began his weapon designing career in 1966 by conducting a series of tests of the AK-47 and summarizing the factors that affect its stability, durability, and reliability.
A gas-operated weapon, the AK-47 utilizes a breech-block mechanism similar to Kalashnikov's failed carbine. Employing a curved 30-round magazine, the design is visually similar to the earlier StG44. Created for use in the severe climates of the Soviet Union, the AK-47 possesses relatively loose tolerances and is able to function even if its components are fouled by debris. Though this element of its design enhances reliability, the looser tolerances decrease the weapon's accuracy. Capable of both semi- and fully-automatic fire, the AK-47 is aimed with adjustable iron sights.
To enhance the AK-47's lifespan, the bore, chamber, gas piston, and the interior of the gas cylinder are chromium-plated to prevent corrosion. The AK-47's receiver was initially made from stamped sheet metal (Type 1), but these caused difficulties in assembling the rifles. As a result, the receiver was switched to one made from machined steel (Types 2 & 3). This issue was finally resolved in the late 1950s when a new stamped sheet metal receiver was introduced.
This model, dubbed the AK-47 Type 4 or AKM, entered service in 1959 and became the definitive model of the weapon. Some 75 to 100 million unites are believed to have been built altogether of the various AK 47 versions.
Kalashnikov will be buried at a local cemetery in Izhevsk on March 30. He was born on July 16, 1942. He graduated from a mechanical institute in Izhevsk in 1966 and took a job at the Izhevsk Mechanical Plant's new products development bureau under the chief designer's office.
He conducted vast research to dramatically improve the reliability and durability of the Kalashnikov rifles and designed a number of parts and components. He also participated in the development of self-loading hunting rifles and the development and testing of Kalashnikov machine-guns. The group of designers he led was behind the the Bizon-2 and Vityaz-SN submachine-guns.