Lima Summit on as planned, says Peru's new president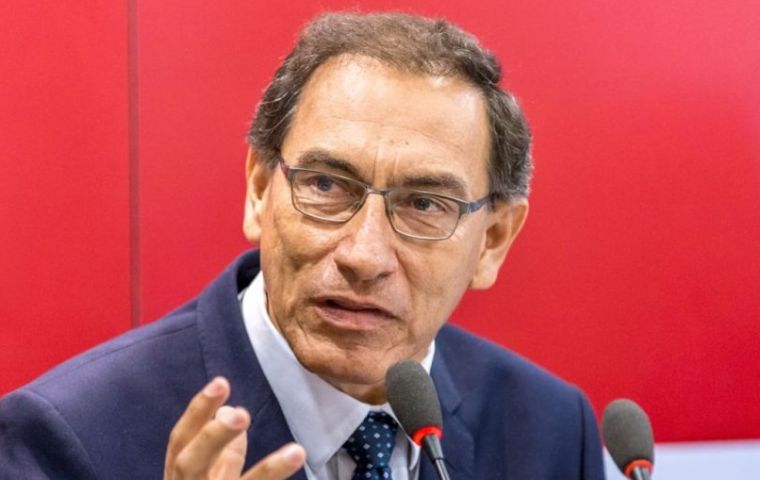 Martin Vizcarra explained he received supporting phone calls from various regional leaders for the April gathering. Maduro's invitation is a matter for the Foreign Ministry to decide.
Peruvian President Martín Vizcarra Tuesday ratified the Summit of the Americas is to be held in Lima in April.
He also explained that the withdrawal of the invitation to Venezuelan President Nicolás Maduro was up to his Foreign Ministry.
Vizcarra, who took office on Friday after the resignation of President Pedro Pablo Kuczynski, said he had received phone calls from several leaders in the region ratifying their participation in the summit on April 13 and 14.
"The established schedule is ratified, I have received calls from various representatives ratifying their commitment to this important meeting to be held here in Peru," he explained during his first press conference as president.
"The first call I received was from Justin Trudeau, the Prime Minister of Canada," said Vizcarra, who was serving as a Peruvian ambassador to Canada when he was summoned to take up his new post.
Regarding the withdrawal of the invitation to Maduro, Vizcarra acknowledged that foreign policy was "such a sensitive issue" and that the matter wass in the hands of specialists in the Peruvian Foreign Ministry.
"The Ministry is taking decisions on this matter and we will support it," he said.
A Foreign Ministry source disclosed that the intention not no invite Maduro remained unchanged following the presidential succession.
Maduro has reiterated he will travel to Lima for the summit regardless of whether a formal invitation is extended to him or not.
US President Donald Trump is also expected to attend in what would be his first presidential trip to Latin America.