Temer, presidential hopefuls condemn attacks on Lula in Parana
Wednesday, March 28th 2018 - 22:26 UTC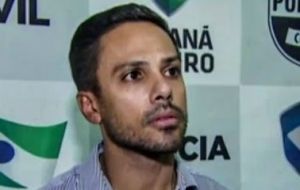 Incumbent president Michel Temer and candidates for this year's elections Henrique Meirelles (PSD), Manuela d'Avila (PCdoB), Marina Silva (Rede), Guilherme Boulos (PSOL) and Geraldo Alckmin (PSDB) Wednesday condemned the attack against the caravan of former President Luiz Inacio Lula da Silva (PT) in the south of the country.
On Tuesday two buses taking part in a PT rally were shot at. Nobody got hurt.
Civil Police chief Hélder Lauria said on Wednesday that the case is being investigated as a case of use of firearms causing material damages, thus overruling Laranjeiras do Sul deputy police delegate Fabiano Oliveira who had announced the peoceedings had been labeled under attempted murder.
Alckmin claimed, "every form of violence must be condemned." The governor of São Paulo made it clear it was the authorities' role to investigate and punish those behind these actions.
"And it is the role of public men to preach peace and unity among Brazilians," he added. "The country is tired of division and calling for conflict," he posted in his Twitter account.
Alckmin's stance on Lula's future has been one of caution. With an eye on the PT's votes, in case the former president is prevented by the Electoral Court from contesting the election, he has avoided attacking Lula or even his party.
President Michel Temer (MDB), for his part, regretted the attack and hinted the climate of instability and division in the country came from the past and from the "one against the other" speech.
"It's a shame what happened! We stayed in the country with this raging thing, that's not useful," Temer said in an radio interview.
"Now, I must also say that in fact this wave of violence was not preached perhaps by those who took that step. Maybe it started back there, and history against each other creates this difficulty that generates frictions of this nature."
During the attack, Lula was not aboard either bus but in a different car taking part in the motorcade.
Temer said acts like this create "a climate of instability" and called for "patience" during the election period. "Let's have patience, let's discuss projects. They can make criticisms, but verbal critiques, not physical criticism," he said.