Falklands: Argentine professor visits Stanley and offers proposal to "end the dispute"
Thursday, March 29th 2018 - 14:19 UTC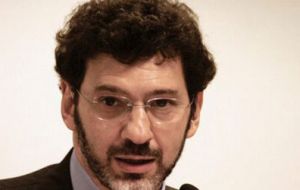 Argentine Professor of International Law at the Graduate Institute of International and Development Studies of Geneva, Marcelo Kohen, has studied disputes and resolutions in different parts of the world. Last Monday Kohen was in the Falkland Islands and at a public meeting in Stanley, he presented a proposal to put "an end to the dispute".
Eight members of the public attended the meeting including two members of the local press.
Mr Kohen's solution entailed a 20 point proposal for the Falkland Islands, South Georgia and the South Sandwich Islands.
The Islands would become a self-governing province of Argentina, with the electorate electing a Governor and Assembly. The judiciary would be independent. He said many aspects of life would remain the same - tax, customs, currency, language, ordinances,
and the federal government would not interfere with the province.
According to Mr Kohen, residents would be given dual Argentine/British nationality.
People born subsequently in the Falklands would receive dual nationalities. The UK would have a presence in the Islands. Two countries, such as Canada and Brazil, would act as guarantors.
After three years, the Islands would be demilitarized, with a provincial militia replacing current troops.
After 30 years, the assembly could hold a referendum to decide whether to continue with the experiment. If no agreement could be reached on the future status of the islands, then the case would be taken to the International Courts of Justice.
Mr Kohen told the audience that he would be presenting the same proposal next week in
Buenos Aires to congress members.
He had offered to discuss the proposal with MLAs, but he received a reply suggesting they felt it would be a waste of time.
Likewise audience members suggested building confidence would be difficult, given the history of relationships with the Argentine government. One aspect that might show Islanders that Argentina had good intentions would be to change its Constitution to remove the claim over the Islands. It was pointed out that such a move had helped relations between Northern Ireland and the Republic.
Mr. Kohen was told it was the 5th Anniversary of the Referendum when 99.8% of the voters voted in favour of maintaining our status as a British Overseas Territory. But Mr. Kohen dismissed the referendum as not valid, as it wasn't organized by the UN. (Penguin News)