Odebrecht finds legal loophole to sue Argentine water supplier AySA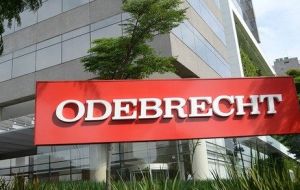 The Brazilian firm Odebrecht, under investigation in 12 countries for bribing government officials, has found a loophole in Argentina's legal system to sue state-owned water supplier AySA.
Odebrecht claims Aysa owes them 888 million pesos for breaches in the contract for the construction of the water treatment Paraná de las Palmas plant. The alleged surcharges and unclear bidding bidding process is under investigation by Federal Judge Sebastián Casanello.
The legal window stems from the last addenda to the original contract, signed on October 18, 2016, by the administration of President Mauricio Macri, whereby Aysa stopped covering breaches from previous contracts.
Odebrecht's local associates in the Parana de las Palmas project - Supercemento, Roggio and Cartellone - said they were not involved in the legal proceedings. Nonetheless, and in its major shareholder capacity, Odebrecht still filed the lawsuit.
A spokesperson for AySA told the BAE Negocios website Wednesday that in the addendum of October of 2016 the company had waived its rights to any legal claim regarding previous contracts, but admitted there is was also an economic claim in May 2017, which was deemed "unfounded and unsubstantiated" by AySA.
Once the lawsuit was filed, Odebrecht relinquished its participation in the consortium in favour of the other three partners. According to Aysa, that "does not release Constructora Norberto Odebrecht S.A. or limits in any way its possible contractual, extracontractual liability for criminal or administrative damages." But legal experts believe their withdrawal can play in Odebrecht's favour should the Judiciary find it necessary to seize its assets in the country.
The Paraná de las Palmas plant is one of the largest sanitary works of the last century in the country. It was going to cost $ 2.15 billion and ended up costing more than $ 8 billion. The other important work for which Odebrecht was hired, the interring of the Sarmiento railway line, was also bequeathed to its former partners. In that case they are IECSA (the old construction company of the Macri group, now in the hands of Marcelo Mindlin), Ghella and COMSA.
Odebrecht has been suspended from the Aysa supplier registry since its executives admitted to the US courts having paid bribes in twelve countries where they obtained contracts with the State, including Argentina. The state water and sanitation company also appeared as a plaintiff in the overpricing case handled by Casanello, although it was dismissed by the judge and now is up to the court of appeals to decide.