US to process immigration of Cubans at Guyana embassy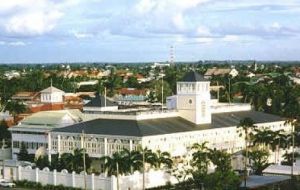 The United States will shift the processing of immigration visas for Cuban nationals from Colombia to Guyana starting April 1, the State Department announced. Immigrant visa applications and interviews with Cuban citizens will be conducted and processed at the United States Embassy in Georgetown, Guyana.
The decision was made after more than two dozen of US diplomatic officials were victims of "sonic attacks" of unknown origin, the State Department said.
The US has evacuated non-essential personnel from its embassy in Havana and suspended the delivery of visas.
Since January, the immigration procedure was carried out at the US embassy in Bogotá, which forced Cubans to apply for a Colombian visa for its completion.
Colombia's travel requirements made it an uphill task for those seeking a brighter future. Cubans residing on the island must present the citation of the National Visa Center of the United States for the interview in Bogotá. They are also required a passport-size photo and a round-trip air ticket with a stay limit of 20 days to be calculated 10 days before and 10 days after the appointment.
Colombia also requires proof of economic solvency, such as bank balances and other documents.
"In determining an alternative location, currently Georgetown, Guyana, we have considered a number of factors, such as flight availability, visa requirements, space to accommodate additional files for applicants and available personnel," the press release, published on the digital page of the United States embassy in Cuba explained.
Travelers on a Cuban passport are not required a visa to enter Guyana.