Rousseff in Buenos Aires to join Labor Day and launch a book on Lula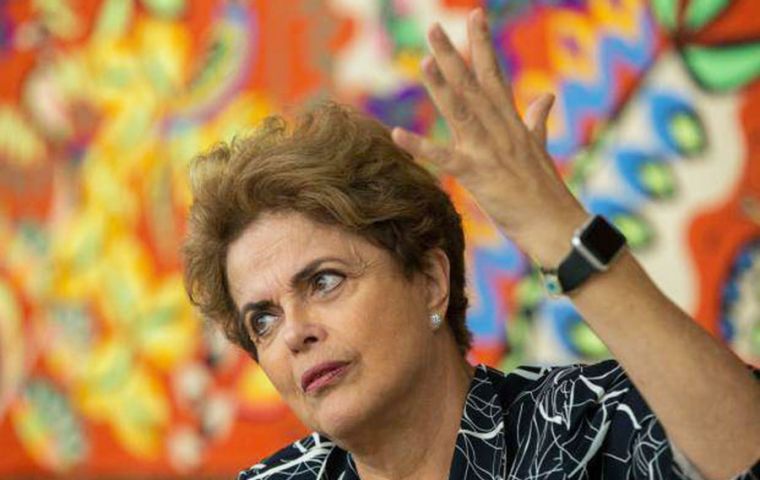 Brazilian former president Dilma Rousseff will be joining May first Labor Day activities in Argentina, and participate of a special ceremony at the Argentine unions federation umbrella organization, CGT.
Rousseff's main reason for her visit to Argentina is to attend the 44th Argentine International Book Fair, in Buenos Aires, where she will make the presentation of a book dedicated to her political mentor, imprisoned ex president Lula da Silva, under the heading of "Lula: truth will overcome".
The Buenos Aires book fair, one of the main cultural events of the Spanish language, will also count with the presence of ex Colombian president Ernesto Samper and former mayor of Mexico city, and several times presidential hopeful, Cuauhtemoc Cardenas.
Other Latin American leaders have been invited to the launching of the book by Rousseff but it's not clear how many will effectively turn out. One of those, scheduled was Uruguayan ex president Jose Mujica, but he stepped down at last moment arguing he had to attend the Labor Day celebration in Montevideo.
Massive rallies are expected in Buenos Aires on Tuesday, mainly in the iconic Plaza de Mayo and in the square next to Congress, organized by left leaning political forces from Latin America. Other social groupings are scheduled to hold their own rally, mainly rejecting the end of subsidies and demanding cooperatives be granted 25% of public works contracts.
Although unions are very powerful in Argentina, their umbrella organization and leading unions are quite discredited because of repeated corruption charges, with several of their leaders in jail. This has facilitated the emergence of a whole raft of social groupings which reject the "official" unions and obviously government austerity policies.