Towering inferno in Sao Paulo: 24-storey building collapses after huge blaze
Wednesday, May 2nd 2018 - 08:08 UTC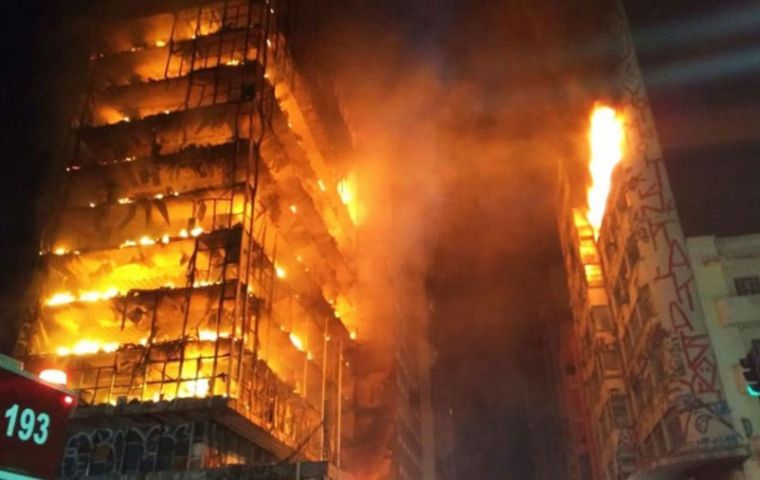 A 24-storey building used by squatters in the center of Sao Paulo, Brazil's biggest city, collapsed early Tuesday after a blaze that tore through the structure, leaving at least three missing. Survivors described waking in the night to find themselves surrounded by flames and escaping with their children before the tower turned to rubble.
Scores of homeless families were occupying the building, according to officials. However, despite the ferocity of the blaze, only one person was listed as almost certainly dead.
"There are some missing, approximately three, with one very likely a fatality," Ricardo Peixoto, a firefighters' commander, reported. "We don't know how many people were in the building so we don't know whether we'll find more victims in the ruins."
So far, 250 people who'd been living in the building have been registered after the blaze, city security official Jose Roberto said. The fire began overnight and spread rapidly, turning the building into an inferno before it fell down.
Dramatic pictures tweeted by the fire service showed flames shooting up the sides of the whole tower, moments before it was reduced to a heap of smoking ruins. An adjacent church was also damaged. Fifty-seven vehicles and 160 firefighters were deployed to the scene, the department said.
Sao Paulo is Brazil's financial capital and the most populous city in Latin America, but suffers huge economic inequality. Poor families often squat in disused buildings or set up tents and shacks on vacant land, sometimes next to wealthy areas.
Sao Paulo state Governor Marcio Franca said "it was a tragedy waiting to happen.... This building didn't have even the minimum conditions for habitation. The state should not have allowed it to be occupied."