Trump's 2015 "Super" health report was dictated by the president, claims doctor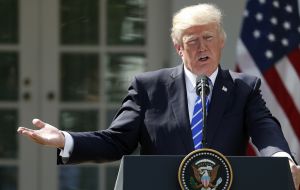 Donald Trump's former doctor has said he did not write a 2015 letter declaring the then-Republican presidential candidate's "astonishingly excellent" health, US media report. "[Trump] dictated that whole letter," Harold Bornstein told CNN on Tuesday.
The White House has not yet commented on the physician's allegation.
Mr Bornstein also said that government officials had carried out a "raid" on his offices in February 2017, removing all of Mr. Trump's medical records. In an interview with CNN, Mr Bornstein said the 2015 letter suggesting that Mr Trump would be the "healthiest individual ever elected to the presidency" was not his professional assessment.
"I just made it up as I went along," he said. It is not clear why Mr Bornstein is making these allegations now.
The letter's contents included statements on Mr Trump's physical strength and stamina, which were described as "extraordinary".
His blood pressure and laboratory tests were described as "astonishingly excellent" and he was said to have lost 15 pounds (7kg) over the course of a year. It added that Mr Trump had no forms of cancer or joint surgery.
A few weeks ahead of its release, Mr Trump tweeted that Mr Bornstein's medical report would show "perfection". "I am fortunate to have been blessed with great genes," Mr Trump, who became the oldest president to be elected in US history, wrote on Facebook at the time.
In January this year Mr Trump had a three-hour examination amid speculation over his mental health. His White House doctor, Ronny Jackson, said at the time: "I have no concerns about his cognitive ability or neurological functions."