EU parliament demands Venezuela elections be 'immediate suspended'
Friday, May 4th 2018 - 08:49 UTC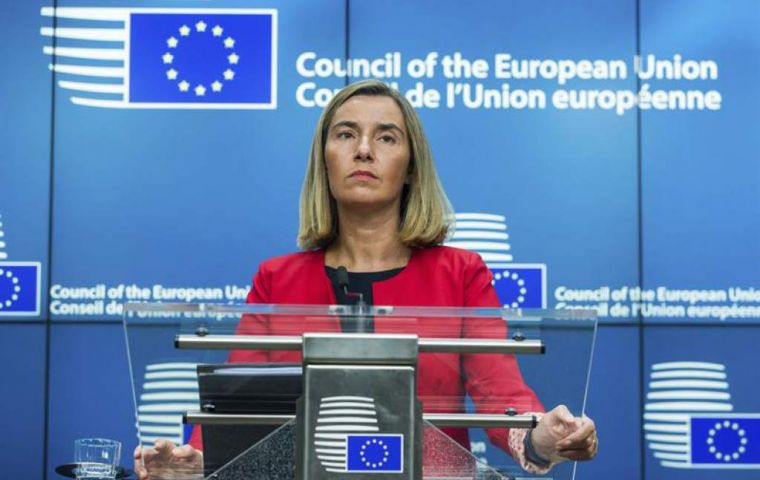 The European Parliament voted on Thursday for the immediate suspension of the presidential elections on May 20 in Venezuela, considering that they do not guarantee any credibility for their lack of transparency and inclusion. In this way, the body and the representative of the European Union (EU) for Foreign Policy, Federica Mogherini, call for the restructuring of an electoral agenda in which there are no outlawed candidates and the necessary electoral guarantees are fulfilled.
With 492 votes in favor, 87 against and 77 abstentions, the main parties of the European Parliament approved an emergency resolution, urging the government of Nicolás Maduro to reconsider the electoral calendar and allow free elections.
For his part, the Venezuelan president responded during a rally of his campaign that does not care to be recognized by the 'oligarchies' of the US or Europe. "What the hell do I care, if the noble people of Venezuela recognize me?" He said at a official ceremony in the state of Vargas, in the north of the country.
The European Parliament, which awarded the Sakharov human rights prize to the Venezuelan opposition in 2017, pressures the Venezuelan regime and the participants in this fight by reiterating that they will not recognize their results. Acting in coordination with a large part of the international community, being one voice with organizations such as the Organization of American States (OAS) or the Lima Group.
The Democratic Unity Roundtable (MUD) held a press conference on Thursday afternoon, ratifying the European Parliament's resolution to suspend the presidential election on May 20. "I hope the government will respect the constitution and agree to a balanced National Electoral Council, because we want to participate," said former President of the National Assembly and deputy for the MUD, Henry Ramos Allup.
The head of European diplomacy Federica Mogherini regretted that not all parties can participate freely and has already warned that it does not rule out extending sanctions to the Venezuelan regime, affirming coordinated action with the international community.
"We ask for a review of the electoral calendar based on an agreed and credible calendar," the commissioner told the European Parliament in Brussels, warning that "it is not a mere question of the date, also of the electoral process itself." (AFP)
The main contender of Maduro is former opposition governor Henri Falcón, a dissident Chavista who registered against the decision of the MUD, which he left to participate on the election.