Brazil's first lady saves her drowning dog jumping into a lake fully clothed
Tuesday, May 8th 2018 - 08:48 UTC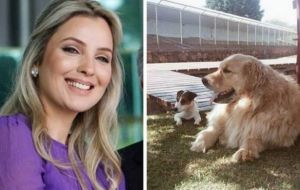 Brazil's first lady has jumped into a lake fully clothed to save her drowning dog. Marcela Temer was walking around the presidential palace in Brasilia with her son when the family's Jack Russell, Picoly, took an interest in the water.
Although the tiny pooch was able to get himself into the lake, he struggled to get back out it was reported.
Mrs Temer threw herself into the lake to save the tiny pooch, clothes and all.
A security agent who reportedly refused to help save the pet dog was subsequently dismissed.
The family have two dogs, Picoly, and a golden retriever named Thor.