Pence calls on Maduro to suspend sham elections and asks OAS to suspend Venezuela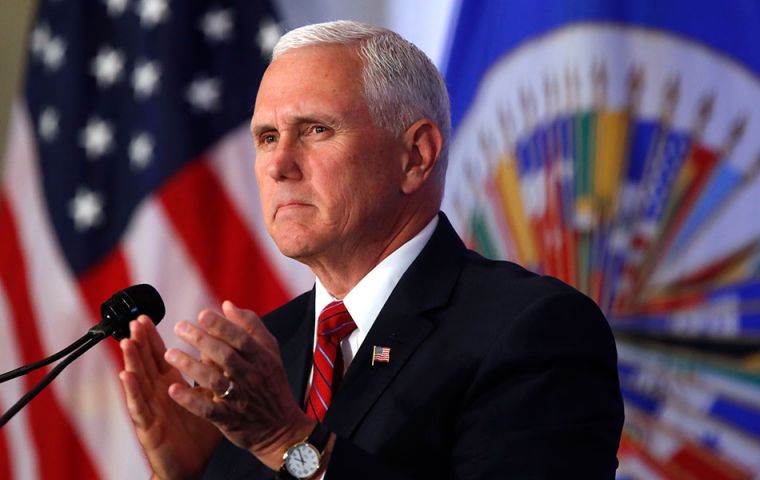 US Vice President Mike Pence on Monday urged Venezuela to suspend a divisive May 20 election he denounced as a "sham," as Washington slapped fresh sanctions on Nicolas Maduro's regime. In an address to the Organization of American States, Pence slammed the upcoming presidential vote -- boycotted by the opposition and branded illegitimate by much of the international community.
"We call on Maduro to suspend the sham elections, and hold real elections," the vice president told the gathering in Washington.
Maduro shot back that Venezuela was not about to follow US orders. "Do we listen to the imperialists?" Maduro asked supporters at a Caracas forum. "NO!" they cheered.
"Venezuela, rain or shine, will be holding presidential elections on Sunday May 20," Maduro said to a roar.
Pence's address came as the United States imposed sanctions on 20 companies -- 16 of them in Venezuela, and four in Panama -- as well as three Venezuelan nationals including a former top intelligence official indicted in the US for narcotics trafficking.
"We will deny corrupt Venezuelan regime officials access to the US financial system as we work with international partners to support the Venezuelan people in restoration of democracy and a return to prosperity," said Treasury Secretary Steven Mnuchin in announcing the measures.
US lawmakers have been calling on President Donald Trump's administration to take a harder line on Maduro's government, with Senator Marco Rubio going as far as calling for Washington to press for regime change.
The OAS, meanwhile, has been deadlocked between members keen to punish Venezuela for democratic backsliding, and long-standing Maduro allies who want to prop him up.
Amid swelling international criticism, Venezuela in April 2017 began the two-year process of withdrawing from the OAS, which it accuses of interference.
Pence urged the 35-nation body to pre-empt that move and suspend Caracas -- in the name of their "long-standing commitment to democracy and freedom."
The latest sanctions unveiled by the US Treasury Department notably designated Pedro Luis Martin Olivares, former chief of financial intelligence for Venezuela's National Directorate of Intelligence, as a "significant foreign narcotics trafficker."
Martin worked to move cocaine and other drugs through Venezuela, paying off Venezuelan officials on the border with Colombia and accepting bribes from drug traffickers in both countries.
In 2015, Martin was indicted by a US grand jury in Florida for conspiring to distribute drugs in the United States.
The Treasury Department's Office of Foreign Assets Control also designated Martin's partner Walter Alexander Del Nogal Marquez and associate Mario Antonio Rodriguez Espinoza for supporting international narcotics trafficking.
The companies targeted were owned or controlled by the three men.
Venezuela's opposition last week called for a boycott of the May 20 election, which Maduro looks likely to win in the absence of any real challenge to his authority.