Story of a Falklands donated Spitfire and its pilot, which crashed in Wales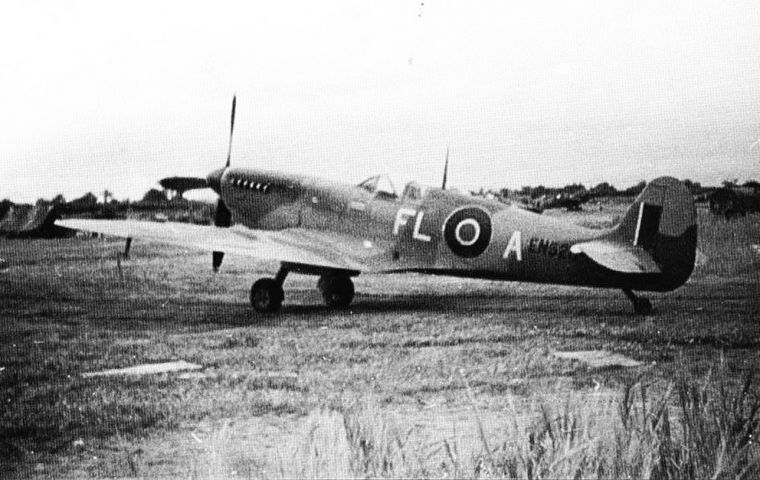 Remains of one of the ten Spitfires paid for by the people of the Falkland Islands during WWII which was found back in 1979, forty years later led to a search on the incident, the pilot, his family and even possibly an appropriate monument to the 20-year old Sergeant, reports the Shropshire Star.
In effect on April 14, 1979, a young air cadet with an interest in wartime plane crashes struck gold when, in the countryside near his home, he came across a piece of the canopy of a Spitfire from a Shropshire air base which had come down in 1942. He made a note of his discovery but over time that relic, along with his expeditions log book, went into his parents' loft.
But almost 40 years on, that now middle-aged air cadet, Simon Gerrard, is on a quest to find out more about the pilot who tragically died, his family, and any living relatives, and in particular a picture of him. The Spitfire flown by Sergeant George Douglas Jones, aged 20, was based at RAF Rednal, a big Spitfire training base near Oswestry.
It crashed on August 5, 1942, at Bryneglwys, Denbighshire, after getting into a spin and then breaking up in mid air. Jones bailed out but was seriously injured. Jones, from Castletown on the Isle of Man, was taken to Wrexham Hospital where he died on August 11.
The aircraft itself had a special distinction, being one of 10 Spitfires paid for by the people of the Falkland Islands, and having "Falkland Islands" written on the fuselage beneath the cockpit.
"Having got so deep into the subject, I haven't been able to resist the challenge of trying to find a picture of the tragic pilot, Sergeant Jones, and indeed this particular aircraft," he said.
"Because of the progress made thus far, I can see it would be possible to raise a small but appropriate monument to Sergeant Jones in the relevant North Wales mountains crash site, but this is subject to an awful lot of variables and will take quite some time.
"My project could be a useful catalyst for prompting Shropshire folks to search their family memories and especially wartime pictures of 61 Operational Training Unit and RAF Rednal.
"Throughout this entire enterprise from when I picked up that canopy piece as a curious souvenir of a hike in Wales, the salient point recurring is how ordinary so much of life was in wartime Britain in that by far it was ordinary folks who volunteered to do their bit in a tragedy of humankind so vast it just rammed home how insignificant individuals like Sergeant Jones were.
"And yet, and yet, despite all the necessary Ealing Studios propaganda and censorship, it was the combination of so many ordinary folks like him in service and on the Home Front that made the winning difference".