Argentine stock market climbs 6% and the exchange market operates cautiously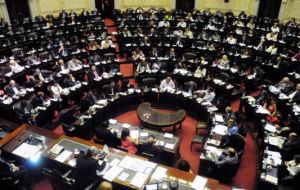 Argentine equities rallied on Thursday, while the country's peso currency was stable, as the central bank sold foreign currency reserves in the spot market for the first time since the country announced it was seeking financing from the IMF.
Across the region, other major markets such as Mexico, Brazil, Chile and Peru also saw their equities and currencies markets jump, supported by a solid day on Wall Street, oil prices that remain high in the face of fresh U.S. sanctions on Iran, and a slew of positive corporate earnings reports.
Argentine Finance Minister Luis Caputo said the IMF deal would guarantee financing through the end of President Mauricio Macri's first term in December 2019 at a "very good" interest rate of around 4%.
On Wednesday, Argentina's Congress passed a capital markets reform bill, seeking to boost the economy by reducing the power of market regulators and loosening restrictions on some funds investing in the country.
"After the announcement to request financial help from the IMF ... local stocks were able to take a breather after the recent downturn and rebounded, taking advantage of the approval of the capital markets law," said Gustavo Ber, partner at Buenos Aires consultancy Estudio Ber.
Argentina's benchmark Merval index climbed around 6% on Thursday, after rising a similar amount on Wednesday. That followed a 12% rout over the previous 12 sessions.
Energy stocks in particular helped support the index, after crude oil prices rose, triggered by potential disruption to oil flows from major exporter Iran in the face of U.S. sanctions.
In Brazil, where the Bovespa index gained 1.74%, shares in state-controlled oil company Petrobras jumped 3.91% after Bank of America elevated its rating on the stock to "buy" from "neutral."