Despite legal setbacks, Lula reiterates his intention to run for a third presidential term
Friday, May 11th 2018 - 09:05 UTC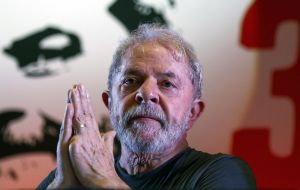 Brazil's former President Luiz Inacio Lula da Silva reiterated on Thursday his intention to run for a third presidential term. Lula was jailed on April 7 and is serving a sentence of 12 years and one month for corruption and money laundering.
His lawyers are working -- so far without success -- to get him free until all appeals in his case are judged. Lula can still appeal to the Superior Court of Justice and to the supreme court.
In a letter addressed to Senator Gleisi Hoffmann, president of the Workers' Party, which Lula founded and presided over for years, Lula said that he remains intent on running in the October elections.
"I am a candidate until truth comes up and until media, judges and prosecutors either prove the crime I committed or stop lying," he said.
The former president reaffirmed his innocence and said the party should not have an alternate candidate for the president, for that would mean acknowledging a crime he has not committed.
Lula was found guilty of taking bribes in exchange for using his influence to favor construction company OAS in contracts with oil giant Petrobras. According to the prosecution, the bribe was a luxury apartment at Guaruja, a coastal town in Sao Paulo.
Lula denied ever owning the apartment. He said he visited it a few times, but decided against the purchase.